Business Not As Usual: Buffer Marketing and the Rapid Adoption of Online Channels
Alfred Lua / Written on 27 March 2020
Hello,
I hope you are keeping well.
This is my weekly private letter on marketing and distribution models. When relevant, I'll also share numbers and discussions on Buffer projects to give you an insider look at the daily life at a tech company.
Today, I want to share how we have changed our marketing plans at Buffer in face of the COVID-19 pandemic, and how the current situation feels like an opportunity to test and find new distribution channels.
As per my previous private letter, I'm making this available to all for free because it might be helpful for you during the uncertain times.
Buffer marketing during COVID-19
We had two campaigns scheduled for the past two weeks — one for Remix, a free mobile app for creating Instagram content, and the other for our refreshed The Science of Social Media podcast. These two projects have been in the works for several months, and the launches were meant to be a huge milestone for celebration.
But it didn't feel right to do celebrations in the current climate. While we feel the mobile app and podcast are helpful to marketers, even in times like now, we wanted to be mindful of the things that were (and are still) happening around the world.
Here's what Kevan Lee, our VP of Marketing, shared with the team:
We believe that tools like Remix can be useful for sharing information and engaging with an audience, two areas that marketers care about in times like these. Remix has been useful for our marketing team, and we hope it can be useful for others, too. At the same time, we want to be especially sensitive to how we approach a launch so that we're being as empathetic as possible and mindful to what people need now. I hope we've struck a good balance there.
For the mobile app, we kept the launch to social media, email, and Product Hunt, with the plan to cut it further if there were major changes in the news.
Here's our Instagram post:
[

View this post on Instagram

](https://www.instagram.com/p/B97ZtPCngGJ/?utm_source=ig_embed&utm_campaign=loading) To help you transform any link, tweet, or product into beautiful Instagram content, we're releasing a new mobile app today: Remix. It's free for iOS and Android. We've been building Remix for the past few months with the goal of making a positive difference in the workflow of marketers. It's helped us stay nimble in these evolving times; we hope it can help you, too. Click the link in our bio to read more.

A post shared by Buffer (@buffer) on Mar 19, 2020 at 1:11pm PDT
Here's what we wrote in a recent newsletter to our blog subscribers: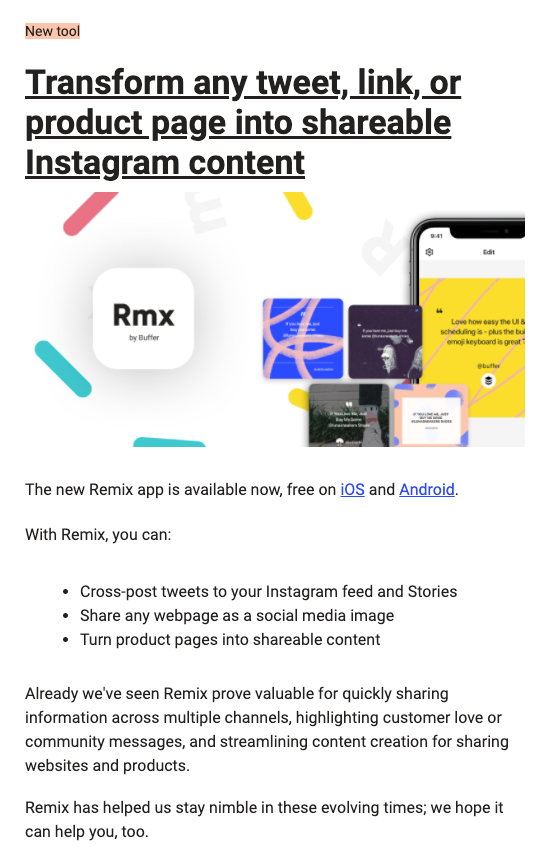 Here's how we launched on Product Hunt:
Hello Product Hunt 👋🏼

We're pleased to be sharing a new app with you today, something we've been building here at Buffer for the past few months now. The app has helped us stay nimble on social media in these evolving times; we hope it can help you, too.

Remix is a free mobile app to help you streamline content creation and design on-brand assets in less time. You can bring tweets to Instagram. Put your products into Stories. And much more. Simply enter any URL into Remix, and you'll have a host of template options to share your content on social: multiple sizes, multiple layouts, all fully customizable.

We hope that Remix can make a positive difference to your social media workflows. It'd be great to hear your feedback and ideas.
For the podcast, we shared the new episode on Instagram and Twitter and held off other promotions.
Besides these campaigns that were planned many weeks back, we also wanted to see how we could help our customers and other small businesses navigate through this tough period. We wrote a blog post, accompanied by a podcast episode, on social media management in times of crisis. We also offered to answer questions about remote work on Twitter, and several teammates jumped in to share their personal experiences. (We are still brainstorming for more things to do. If you think there's something we should do given our experience or position, let me know!)
Rapid adoption of (new) online channels
Just a few weeks ago, many people had not heard of Zoom or Slack. And I'm sure many did not regularly engaging with brands on social media or opening their emails.
But COVID-19 have forced us – consumers and businesses – to adopt new habits and technologies.
As Kaleigh Moore wrote on Forbes:
As health officials advise people to institute social distancing and to self-quarantine around news of the coronavirus spread, retailers across verticals are having to find unique and creative ways to transition their in-person gatherings to online environments.

The hope: The switch will help keep their communities engaged.

Several are already leveraging digital platforms and finding effective ways to quickly transition traditionally in-person events.
Haus, an aperitifs direct-to-consumer brand, switched from happy hour gatherings to weekly virtual events. Tracksmith, running brand for non-professional yet competitive runners, moved from in-person events at local running clubs and their retail stores to email, social, and Slack. Maternity brand Hatch is using social media to keep up their educational events. BIDE Market, a sustainable pop-up market, will be moving to Instagram Live. (My triathlon coach also said he is moving all his efforts to social media.)
As more businesses switch to online channels and consumers are introduced to platforms like Zoom and Slack, it's likely that consumers will start embracing them. This can create a habit that will stick with them after this period.
For businesses, this feels like a good opportunity to try new channels and experiment with new technologies. Not only are consumers more receptive now, you have a constraint that is in your advantage. In view of the pandemic, customers don't want businesses to be selling them things. They want help. And that's what marketing should be about — providing value to your customers and not constantly selling them things.
I love what Tracksmith is doing:
Along with their weekly newsletter, they're sending out descriptive workouts for community members to do on their own, sharing long run maps for those who are running solo outdoors, and sending community members to the brand's Facebook page and social fitness network Strava to foster continued communication between members.
With all the additional value, I believe they will see improvements in their open and click rates. Tracksmith has even started a Slack group for members of the Boston running community. From my research, they seem to be the first running brand that have started a Slack group. (Let me know if I'm wrong!)
Here are two more examples of businesses being innovative while helping customers:
Privy, an e-commerce marketing software, started an online marketplace for small e-commerce brands. Can't afford to build something like that? Elliot, a no-code commerce platform, built a virtual mall with Google Sheets.
It's definitely a hard time for many businesses (and I don't want to dismiss that). But if you can afford, now feels like a good time to innovate and find new distribution channels.
Stay safe out there.