Canva, Social Media, and Its Future
Alfred Lua / Written on 04 September 2020
Two weeks ago, Canva released a new feature that allows users to plan and schedule social media posts directly from Canva. As someone working at Buffer, I can't help but wonder what this means for Canva and social media management companies like Buffer.
Is this a smart move by Canva? Will Canva steal market share from social media management companies? How might Canva's product develop going forward?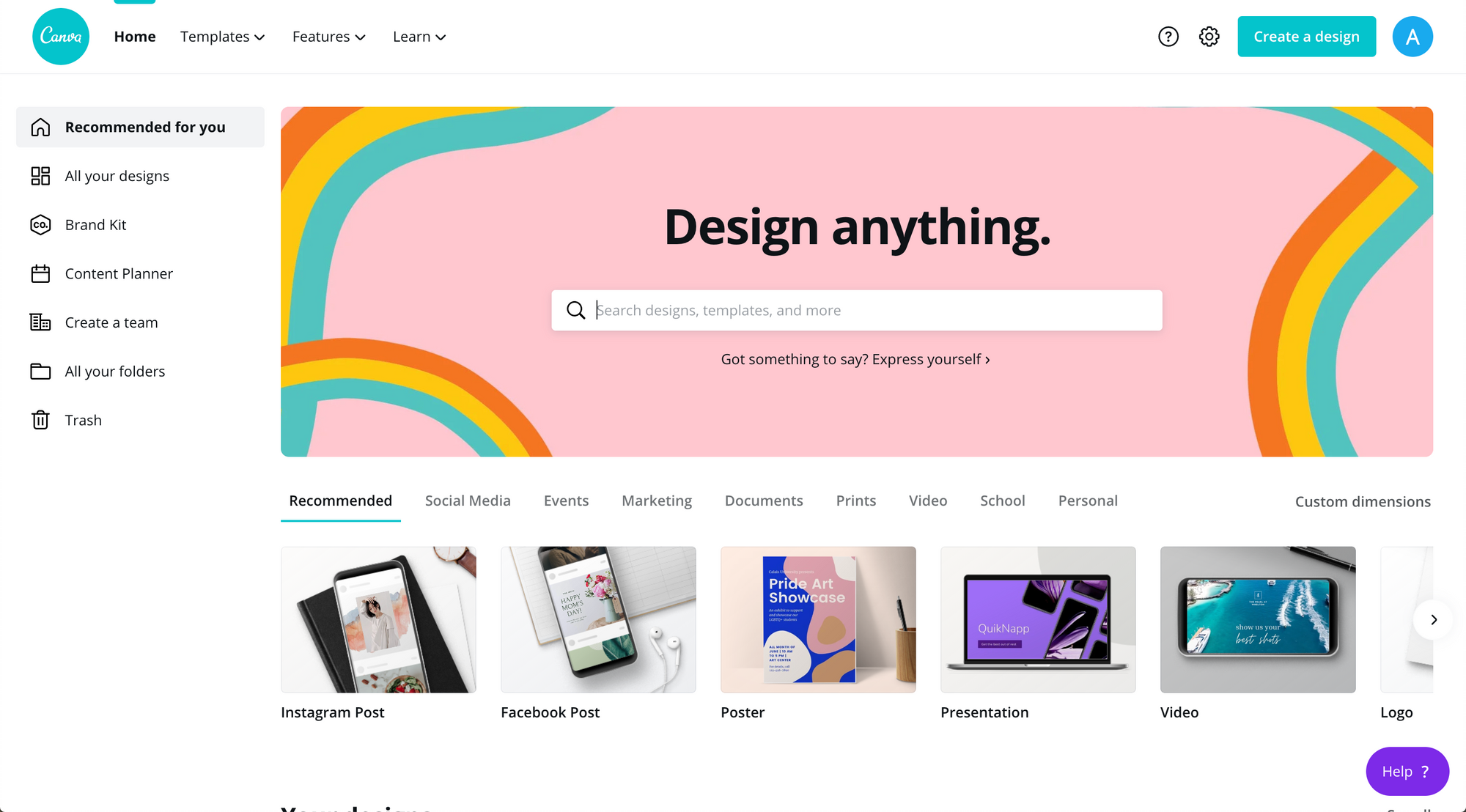 A natural product extension
As a product marketer at Buffer, I regularly talk to social media managers and research into the social media space. One thing I can say for certain is almost every social media manager loves Canva. It is much easier to use than professional design tools such as Photoshop, Sketch, or Figma but powerful enough to create professional-looking graphics. Even on the free plan, it's possible to create pretty great graphics. This is important for many social media managers, who tend to have the least budget in the marketing team because the return on investment on (organic) social media is almost impossible to show.
A lot of social media managers' time is spent on creating content and scheduling the posts. Social media managers would create graphics using tools like Canva then schedule social media posts with tools like Buffer. So being able to schedule directly from Canva feels like a natural and strong product extension. And there are more benefits. First, Canva itself becomes a file storage. Instead of downloading the graphics, keeping them in Dropbox or Google Drive, and sending to one another, marketers can simply keep them in Canva (which is likely why the free plan has limited storage to encourage users to pay). Second, scheduling directly from Canva also saves marketers another step in their workflow: uploading. This might sound trivial but the convenience adds up when the marketer has to schedule tens of social media posts every week. Like unlimited file storage, scheduling to social media is only available on the paid Canva Pro plan. At about $14 per month, the Canva Pro plan is pretty competitive with the basic plan of most social media management tools. And it has an entire design tool.
I honestly think @canva has taken the step into the right direction!! A content planner is absolute genius plus it schedules the posts to sooo many platforms !!!!! — 𝑨𝒎𝒚 🕊✨ (@amymicallef) August 24, 2020
Is the social media scheduling feature perfect? No. It currently doesn't work with Instagram, and it seems like posts scheduled through Canva can't have links or videos. But does that matter? Also, no. It will just be a matter of time before Canva builds those features. Canva currently even allows users to share graphics to WeChat, QQ, QZone, and Weibo—major social media platforms in China—which many well-known social media management tools like Buffer, Sprout Social, and Later don't.
The fight for social media managers
What does this mean for those social media management companies? This new feature will definitely cause some marketers to switch from social media schedulers, including Buffer, especially small businesses and marketers who only need basic scheduling functionalities. Paying for one tool that can do both jobs is better than paying double for two. Canva understands this point:
Available from today to Canva Pro subscribers and more than 60,000 nonprofit organizations as part of Canva's Nonprofit program, Canva's new Content Planner now makes it possible to schedule upcoming social media content directly from the Canva Editor to a range of social networking platforms, solving the need for manually downloading individual Canva designs or paying for standalone social media scheduling tools. (Emphasis mine)
But it is unlikely this feature will make a significant dent on the social media management companies' market share immediately. Scheduling to social media is a commoditized feature. Social media management tools have free plans with pretty generous scheduling features. Social media platforms like Facebook and Twitter themselves also have scheduling features—free of charge. The value-add of social media management tools at the moment is analytics, reporting, and engagement. That's why one major task for us at Buffer is to shift our positioning away from being just a social media scheduler to being a complete social media management tool. I think it's hard to see marketers who need these extra functionalities dropping social media management tools entirely and switching to using Canva exclusively. At least until Canva adds those features. But will they?
Design tool for marketers, not designers
While Canva is a design tool, it is used mostly by marketers rather than designers. 80 percent of its Canva Pro users are using it for marketing purposes—creating social media posts, videos, ads, posters, and so on. In its press release, it also talked about its "rapidly growing marketing suite":
As Canva continues to double down on its rapidly growing marketing suite, the company is looking back to its roots, today announcing a raft of new features to further empower content creators and small businesses using social media to connect with their communities.
So it's interesting to think about how Canva might continue developing its product and company. Will it keep its focus on design? Or will it build out social media analytics, reporting, and engagement features to compete with social media management tools? Or will it go even further and build more marketing features? How will it position itself then?
My guess is it will expand beyond design, in three steps:
The ConvertKit step
The Wix step
The HubSpot step
The ConvertKit step is for the immediate term–to focus on a segment of users and compete orthogonally with specialized tools. The idea is that people would prefer to use a single tool that can do a bit of everything rather than to buy multiple specialized tools.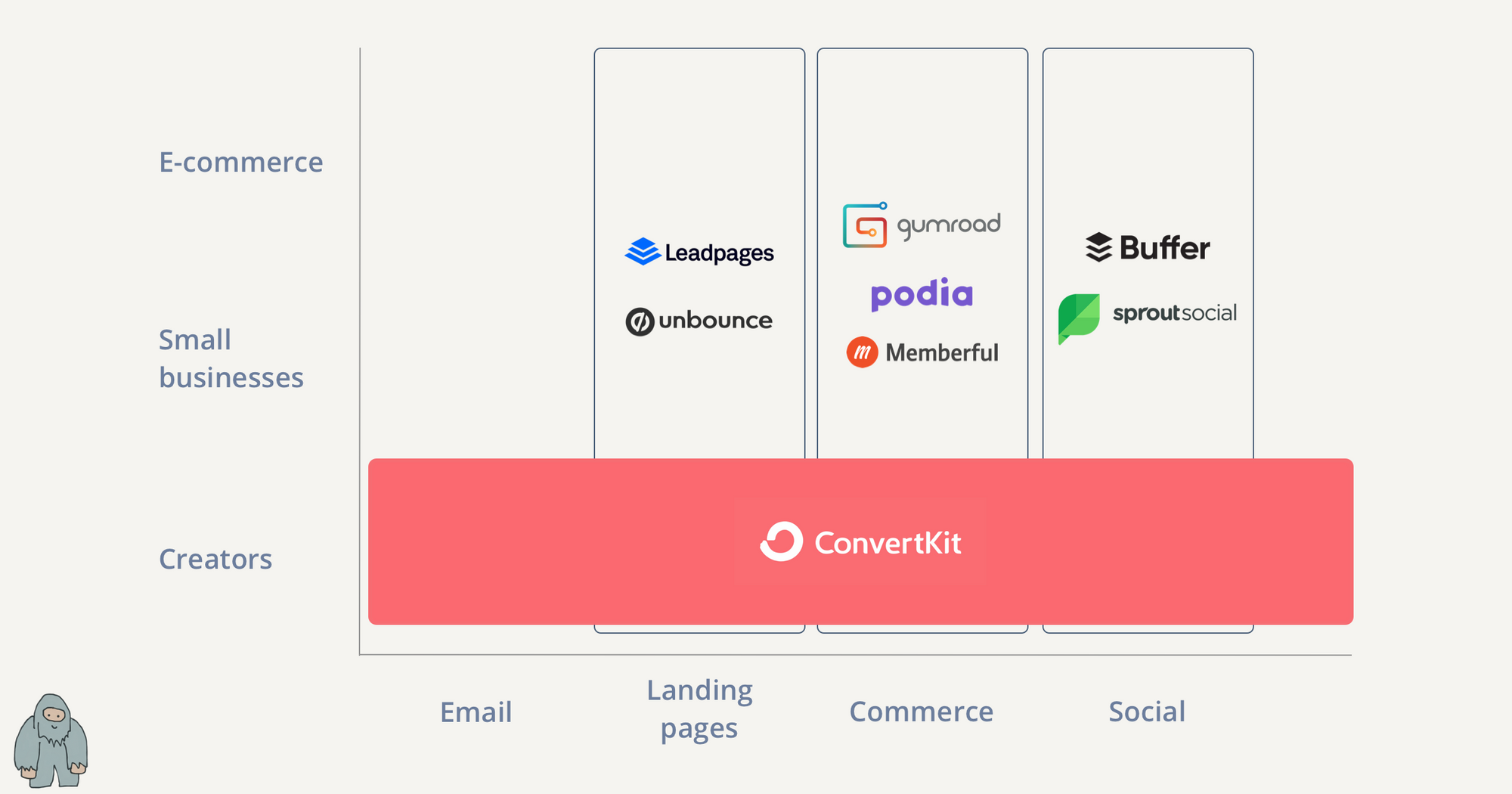 Besides email marketing, ConvertKit, which focuses on creators, also has a landing page builder and commerce features for selling digital products. Canva already has social media scheduling features to compete with specialized tools like Buffer. It could potentially expand into other marketing areas such as landing pages or email templates—things that marketers do that require design. It could become the design platform for marketers. Given that 80 percent of its paying customers are already using it for marketing purposes, this isn't a stretch. The challenge might be what to do with the remaining 20 percent who will definitely have feature requests for non-marketing use cases (e.g. education and presentations). It can be hard to ignore them as we had experienced at Buffer but is perhaps necessary.
The next step, in the medium term, is the Wix step. Despite having email marketing, social media marketing, and customer service functionalities, Wix positions itself simply as a free website builder. This is likely because all the additional functionalities depend on the user having a website first. Wix gets them in the door by creating a website, then cross-sell them the other products—what is sometimes described as a staircase approach. A similar pattern exists for Canva. Marketers need to create graphics and videos before they can use them in social media posts, ads, emails, and so forth. Canva could continue to position itself as a free design platform while expanding beyond design features. It could get marketers to design creatives first, then cross-sell them social media scheduling and other functionalities.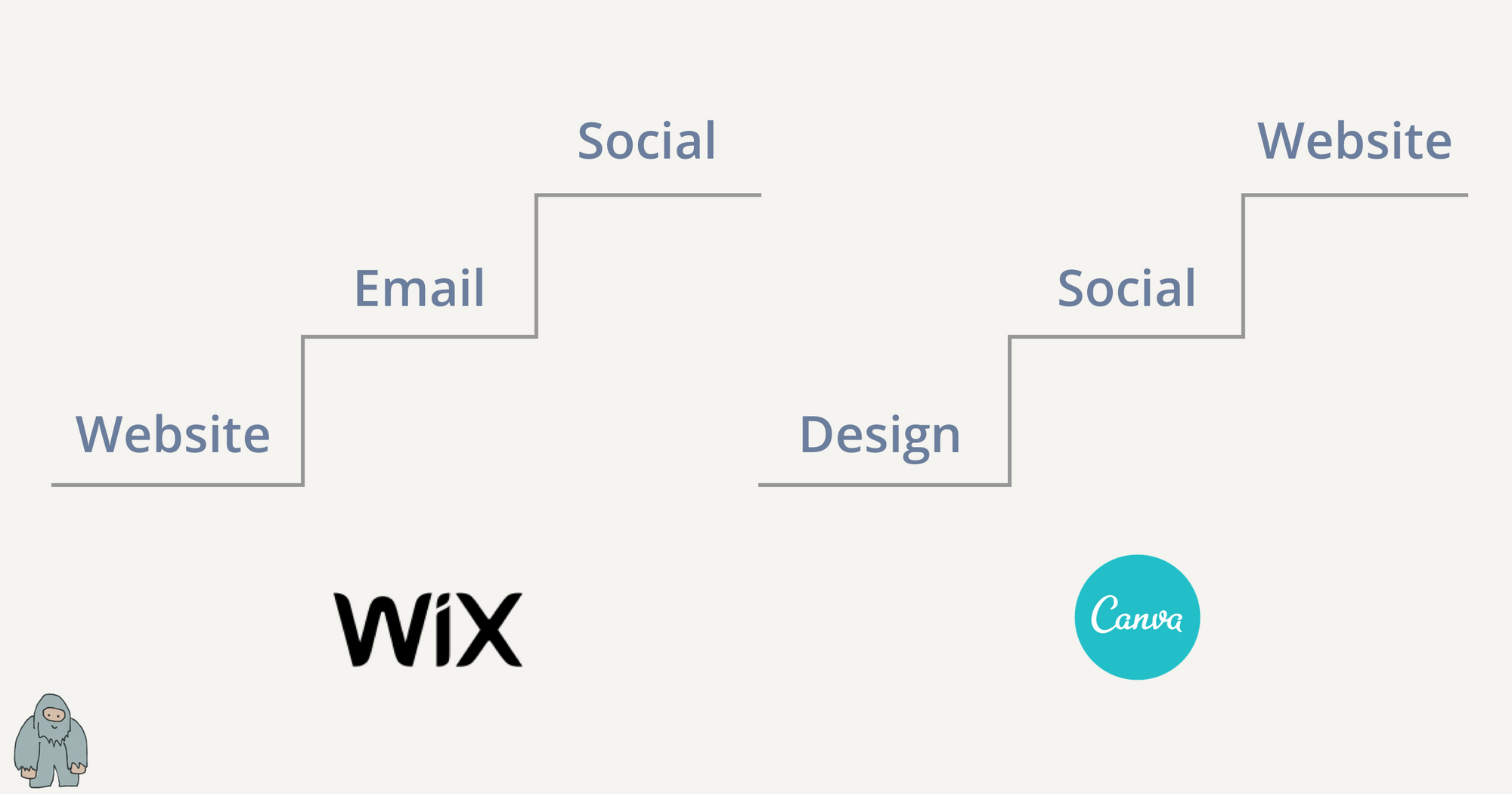 If Canva does move in this direction, it would eventually move on to the HubSpot step. While HubSpot started as an inbound marketing software, it eventually grew into a platform with also sales, customer service, and content management system products. Every product is an entry point into the HubSpot platform. Customers could start with the marketing software or sales software and expand into the rest. A multiple-door approach.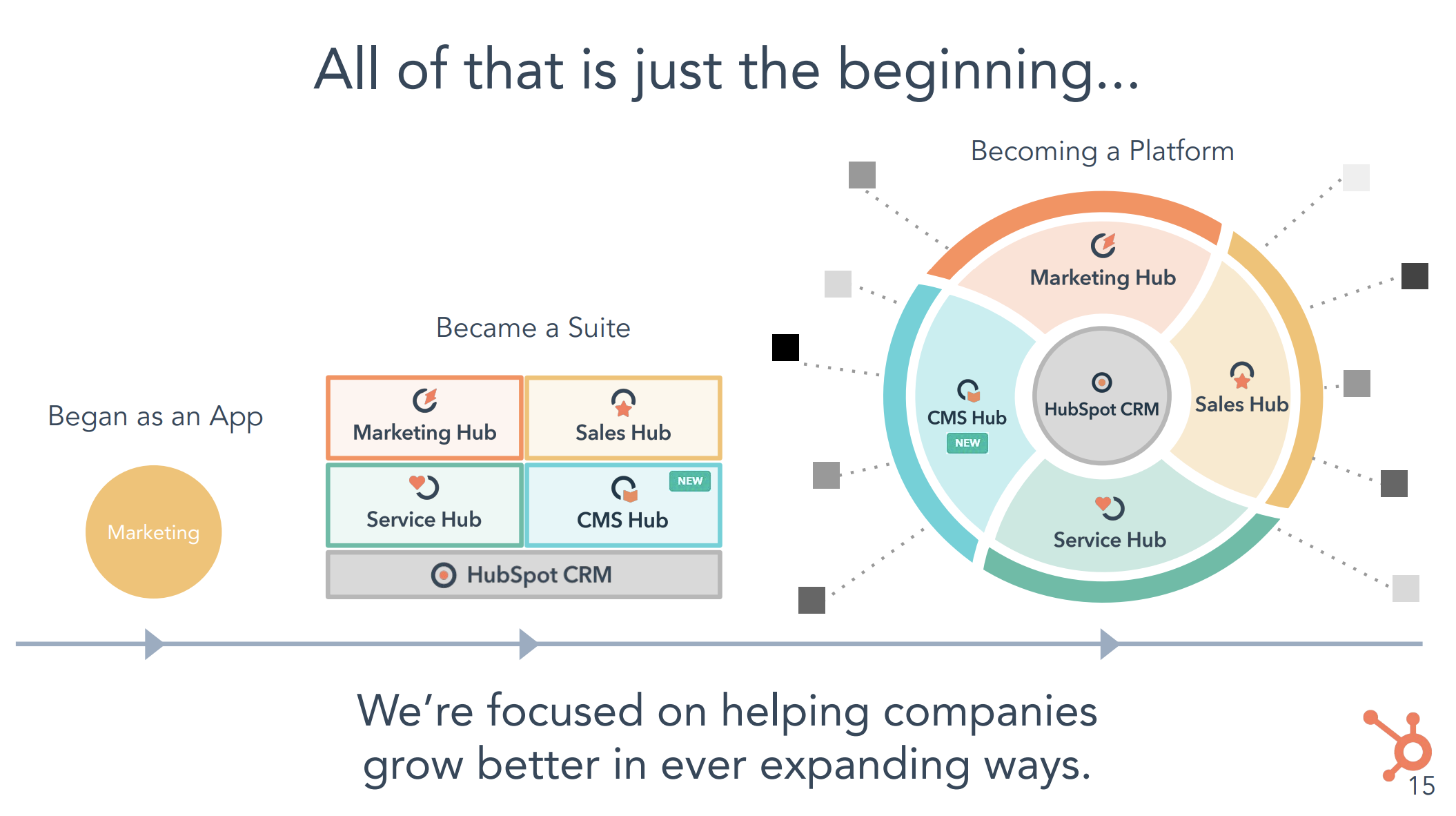 At a $6 billion valuation and more than 1,000 employees, it's possible for Canva to build an entire marketing product with not just social media functionalities but also email marketing (think Mailchimp) or content management system (think Webflow). Both the design and marketing products could serve as an entry point into the Canva platform. Marketers could first get the marketing product and then get the design product or vice versa. Given that marketers always need design help with creatives and might not always get the support, having a platform that does both marketing and design for marketers makes sense.
HubSpot isn't the only example of such an expansion strategy. Companies like ServiceNow and Salesforce did the same, as explained by Yasmin Razavi:
Best companies/founders find ways to expand their TAM by venturing into adjacent markets.

Inevitably the core product will tap out&maintaining high growth rates at scale requires strategic product expansion beyond an initial wedge. In b2b software many examples standout/thread — Yasmin Razavi (@YasminRazavi) July 10, 2020
One challenge would then be positioning Canva as a whole. HubSpot positions itself as a growth platform for businesses to grow better, to encompass its marketing, sales, customer service, and content management system products. It doesn't feel like a strong positioning to me but it could be I'm out of my depth. How could Canva position itself if it has design and marketing products? The two ideas I have are to position Canva as a creative toolkit or a branding platform. Creatives and branding are two things that involve both marketing and design. (There are likely better ideas than these.) And this could be a great opportunity for Canva to create a new category, as Drift did twice, to pull themselves further away from other design tool competitors.
Canva's simple future
Most products become more complicated over time, as Nathan Baschez explained in his essay, Complexity Convection:
Businesses are born simple. They attract early cohorts of users with equally simple needs. Then, as users get the hang of things, their needs become more sophisticated. So the business listens to its customers and adds complexity into the product. It's a co-evolutionary process, where everybody is optimizing according to their knowledge and incentives.
Eight years since founding, Canva is still surprisingly easy to use. While Canva might add more features to its product, I believe it would want to avoid making the product complicated. Co-founder Melanie Perkins started Canva because she noticed people found design software such as InDesign and Photoshop "hard to learn and even harder to use." Even a professional designer might not know everything about those tools. (To be clear, this is to say professional design tools are really hard to master and not that professional designers are not good enough. My design skills are evidently not good enough.)
The whole premise of Canva is people want to create professional-looking designs without having professional design skills. So it makes more sense Canva would expand horizontally into other areas that could be simplified (e.g. social media, websites, emails) than to grow vertically to support more complex design needs.
What do you think?