ConvertKit and Its Hyper-Focus
Alfred Lua / Written on 07 August 2020
ConvertKit grew to a $22 million annual recurring revenue company in just seven years. Inc. Magazine named it the fastest-growing company in the United States this year.
I believe it has had such a success because of three reasons:
A clear niche positioning
Backed by actual product features
Supported by a strong narrative through its marketing
Niche positioning
The email marketing space is very crowded. But they can be pretty much split into two broad categories:
Email marketing for small businesses (e.g. Mailchimp, AWeber, Active Campaign, Constant Contact, HubSpot)
Email marketing for e-commerce (e.g. Klaviyo, Drip, Omnisend, GetResponse)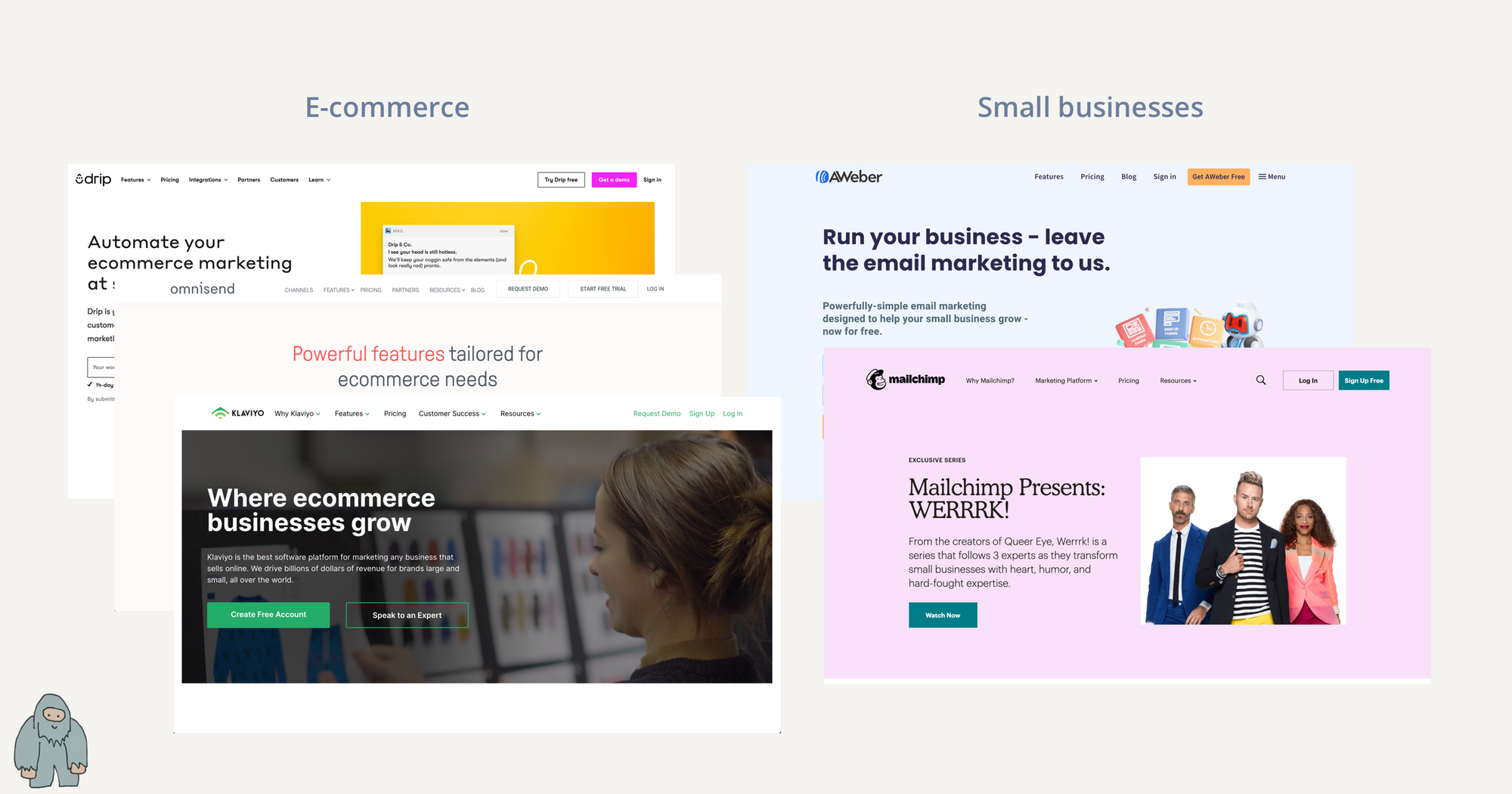 If you think about it, most marketing tools position themselves in one of those two buckets. Convertkit went against this trend and positioned itself uniquely in the market. ConvertKit is email marketing for creators. Not small businesses. Not e-commerce companies.
ConvertKit founder and CEO Nathan Barry wrote on his blog:
Choosing a niche is the easiest advice to give and the hardest advice to take. When you don't have traction, it feels like choosing a niche will exclude the few people who are coming in the door. In reality when we chose "email marketing for professional bloggers" everything changed.

Messaging became clear, the product roadmap was trimmed, and the prospect lists practically wrote itself.

Without that change—without excluding everyone who didn't fit into the blogger bucket—it would have been incredibly hard to get off the ground.

We eventually expanded to "email marketing for creators," which now includes podcasters, actors, YouTubers, authors, artists, musicians, and so many more. Even with growing into that larger audience we are still so much more focused than our competitors who target all small-businesses.
Barry himself was a creator before he founded ConvertKit (and he still is). He knew how the existing email marketing tools weren't serving people like him well. By positioning ConvertKit specifically for creators, he created not only clarity for the team but also their customers. If you are a creator, there's one email marketing tool for you.
Product features and differences
Besides choosing a unique positioning, ConvertKit backed that up with actual product features for creators. This might sound silly but often marketing teams exaggerate what their products can do for their customers. Initially, what differentiated ConvertKit from incumbents like Mailchimp were features that were built specifically for creators. Three key features stood out.
Email sequences: Creators often create email courses and need an easy way to string together a series of emails
Opt-in incentives: To entice visitors to subscribe to their mailing list, creators would usually offer a free e-book or resource in exchange for their email addresses.
Multiple signup forms for one list: In the past, email marketing tools provide only one signup form for each mailing list. Creators ended up having many different lists because they want and use multiple signup forms throughout their website.
As competitors catch up with similar features, ConvertKit tries to pull away again. For example, it recently introduced ConvertKit Commerce. Traditionally, email marketing tools integrated with e-commerce platforms like Shopify and BigCommerce for businesses that want to sell through emails. But creators create digital products, such as books, music, and courses, which don't always fit on those e-commerce platforms. Now ConvertKit is offering a direct way for creators to sell their digital products.
Strong narrative through marketing
Finally, ConvertKit has built a strong narrative, consistent with its positioning and product, through its marketing. The story they keep telling is they are helping creators earn a living online. You can see this all throughout its marketing funnel.
At the top of the funnel, the ConvertKit team creates a lot of content aimed at creators. They have weekly Creator Sessions on YouTube, a documentary series about how creators earn a living online, a conference, three podcasts, and a ton of training workshops for creators. They also have an affiliate program that asks creators to get other creators to use ConvertKit. Their case studies are called Creator Stories. All these build its brand awareness as a tool for creators.
When you search for convertkit on Google, you see that its title is "ConvertKit | Email Marketing for Online Creators". On its homepage, you will see the header, "Audience building for creators". The copy on the page is written specifically for creators: "Share your creative process", "Turn your side-hustle into your career", "With ConvertKit, creators like you can", "Are you ready to start your next creative project for free?"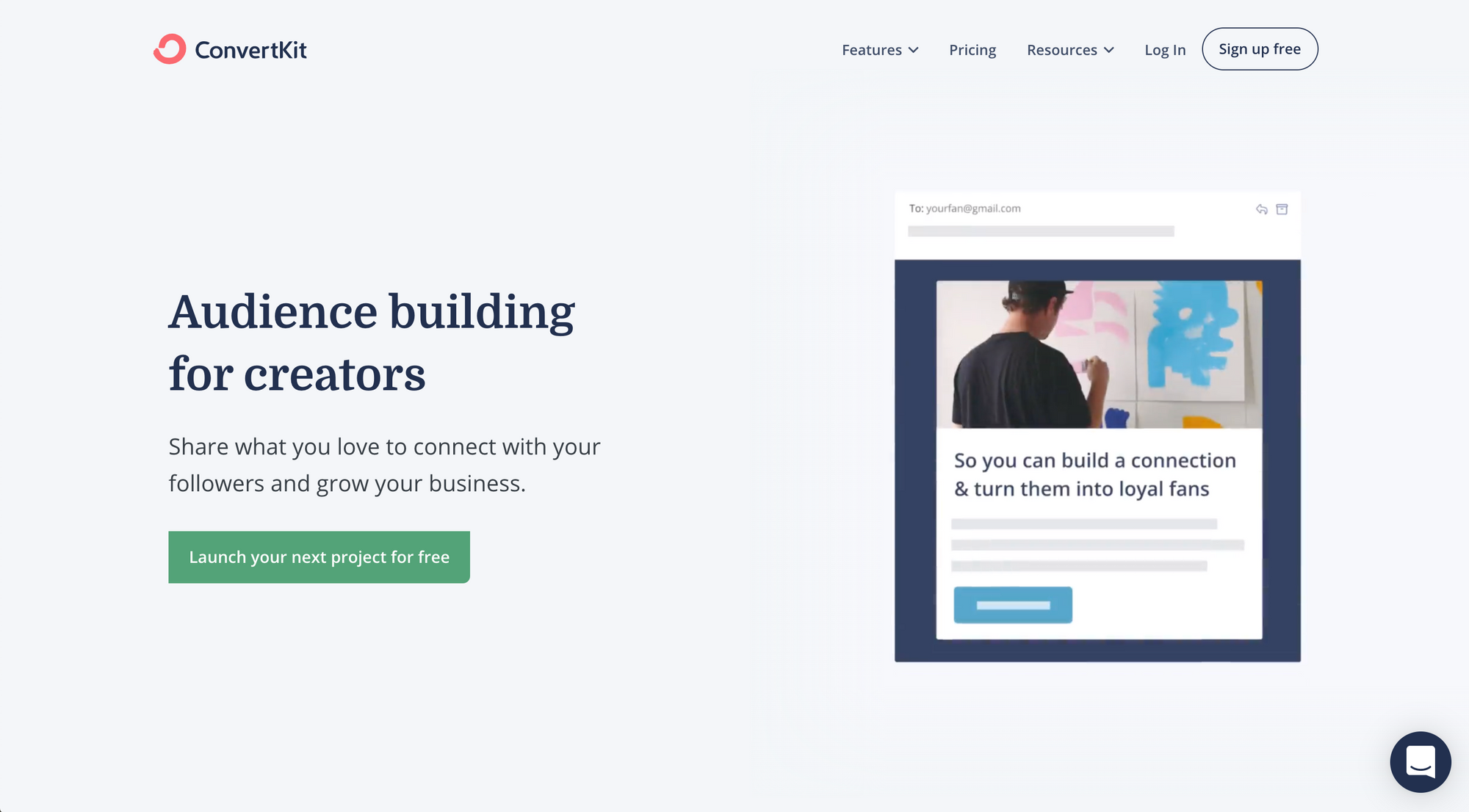 The signup flow also shows a testimonial from a creator.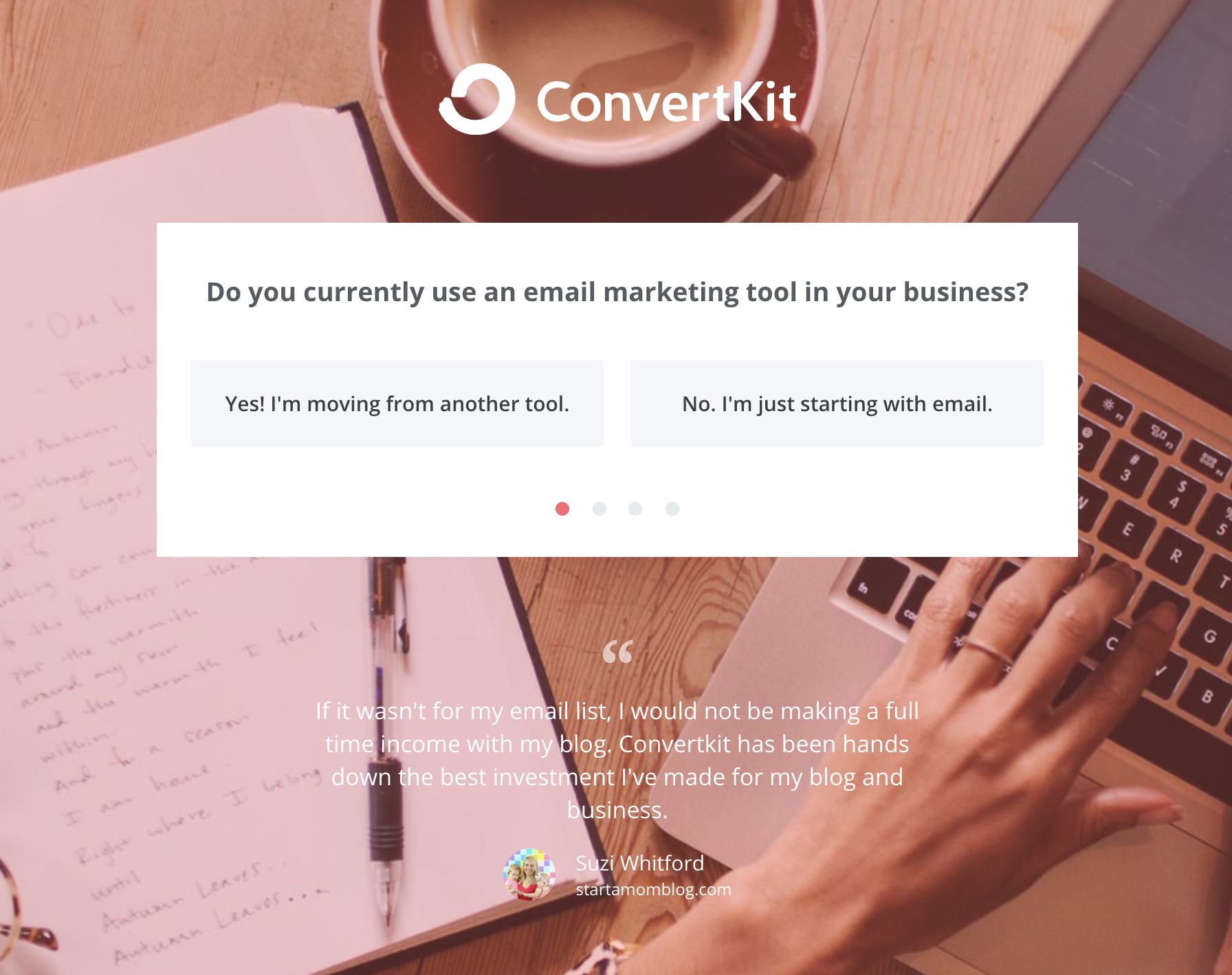 Even the onboarding emails are written for creators.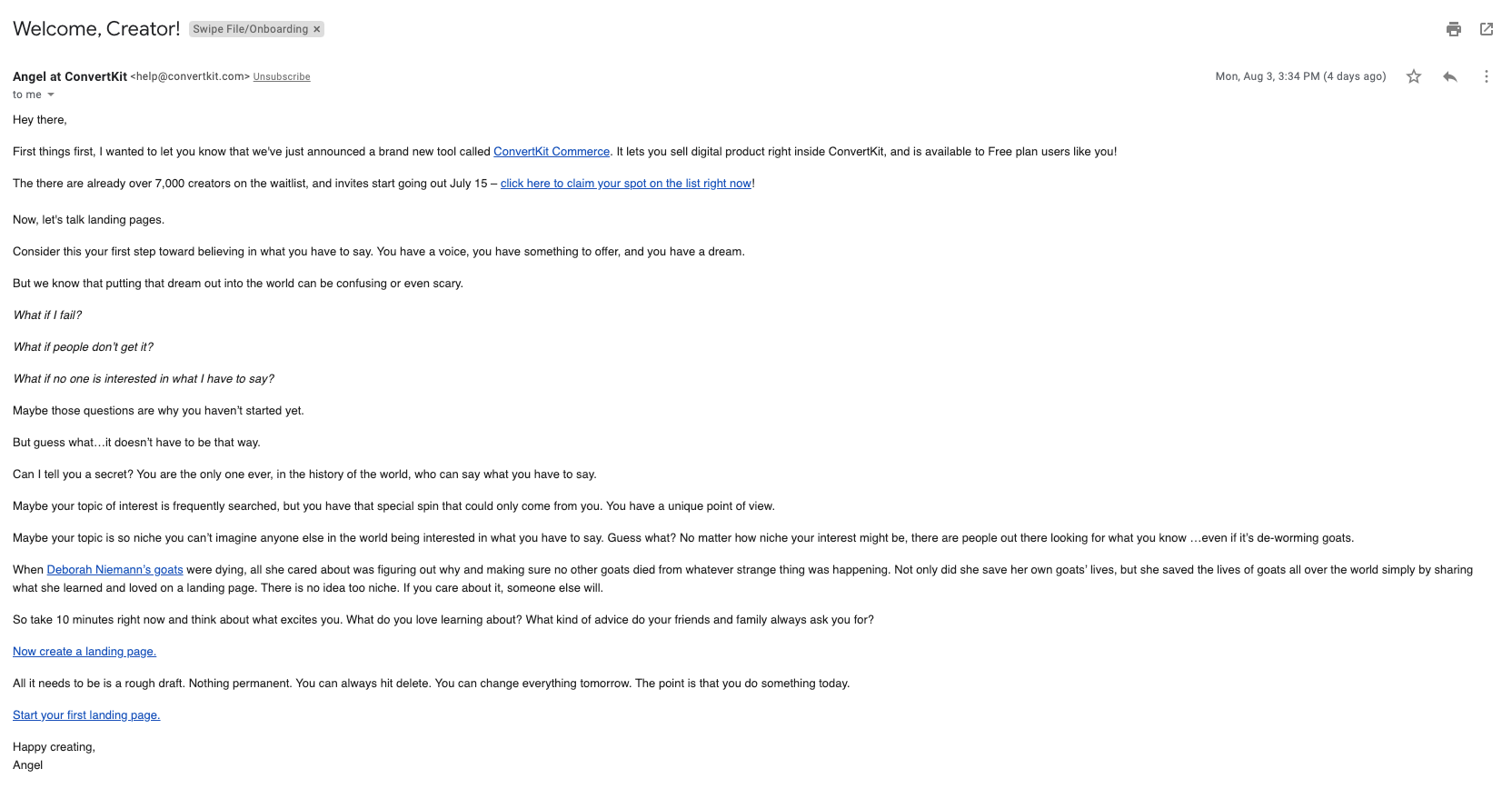 Is such hyper-focus for every company?
While choosing a niche worked great for ConvertKit, I wonder if that only works for companies that have just started and are finding traction.
At Buffer, we tried narrowing our focus on direct-to-consumer (DTC) brands for the past year and experienced many challenges. For context, Buffer has already been around for 10 years and has many different types of customers, such as publishers, tech companies, universities, and individual creators. We built a profitable business serving all of them but growth started to stall a couple of years ago. We decided to focus on one specific segment, hoping it will focus our product and marketing and kickstart growth again. It didn't work, and we recently expanded our focus a little to small businesses.
I have two hunches on why it didn't work for us. First, our product isn't built for DTC brands, unlike ConvertKit is for creators. We tried building features that such brands need. Each time, we saw a tiny growth but it flattened out quickly. In the two years, we only built a few features, which didn't exactly make Buffer a strong tool of choice for DTC brands. Perhaps the speed of our execution was a contributing factor, too. Second, most of our customers weren't, and still aren't, DTC brands. We already had a strong brand as a general-purpose social media management tool, so we were attracting all kinds of customers even when we pivoted our marketing sharply to DTC brands. This created a mismatch because we were building our product for DTC brands while people who were trying and using our product aren't DTC brands and wanted other features. For example, many customers asked for LinkedIn features but DTC brands rarely use LinkedIn. It feels harder to focus on a niche after not focusing on any niche for years. It might make sense to start with a niche and gradually expand as the company grows, rather than the opposite way round.
Furthermore, I don't think every company needs to have a focus as sharp as ConvertKit. There are several successful companies that don't focus on just one specific customer segment. (To be clear, this doesn't mean it would work for every company.) A few examples are Ahrefs, Intercom, Stripe, Drift, HubSpot, and Shopify.
It'll be interesting to follow ConvertKit's journey to see whether they will keep focusing on creators for the long-term or gradually expand into other industries. My hunch is they will focus on creators and expand outside of email marketing rather than focus on email marketing and expand into other industries.
One tool for creators
ConvertKit has already been expanding outside of email marketing for a while. It has a landing page creator and allows creators to sell digital products. While these tools are not as comprehensive as specialized tools, such as Leadpages and Gumroad, they are good enough for creators. This enables ConvertKit to compete orthogonally with them in the market.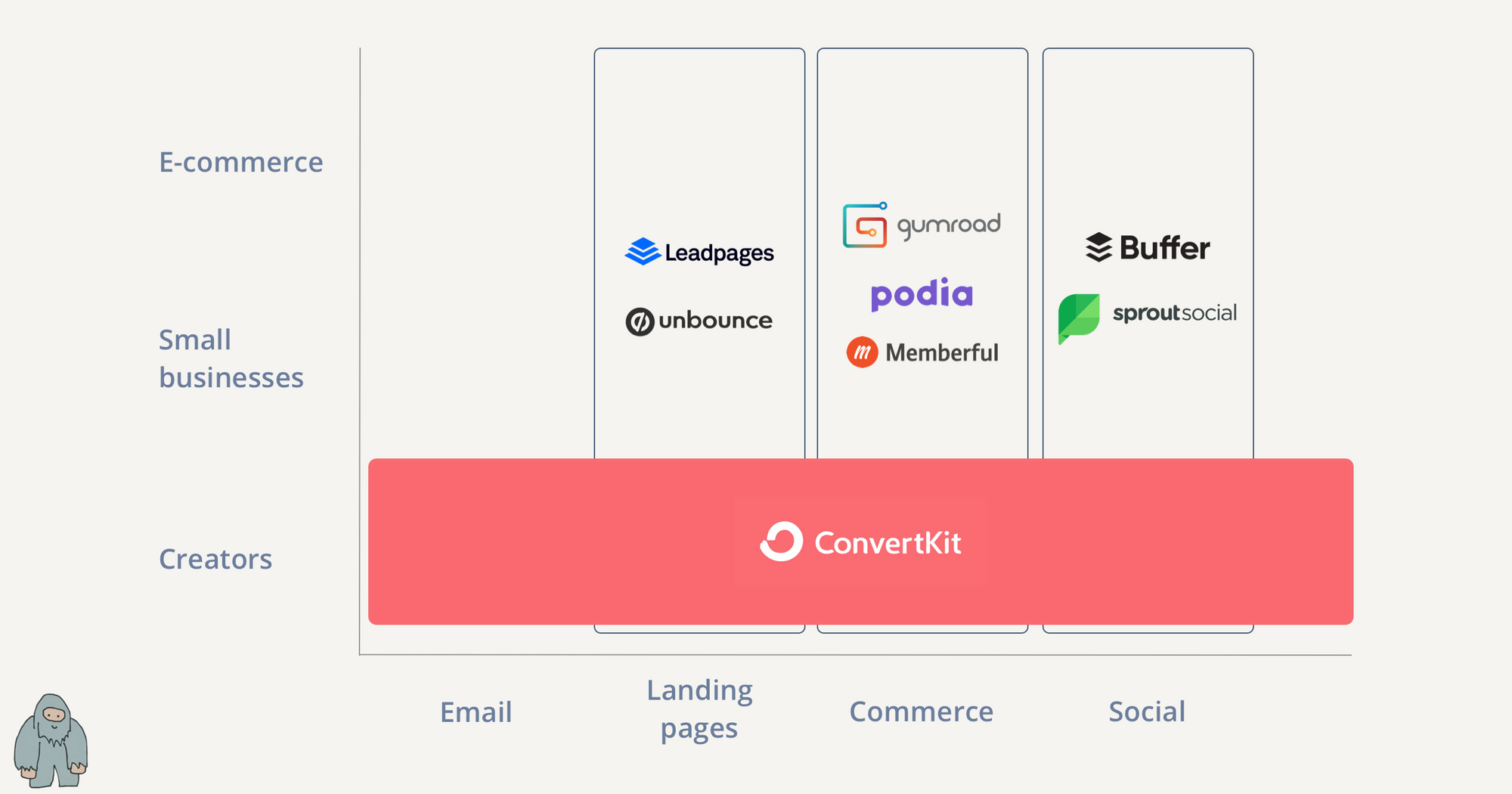 One thing I think many people underestimate is the power of being able to do a bit of everything in a single tool. Most people don't need all the features in a specialized tool. So instead of getting Leadpages for creating landing pages and Gumroad for selling digital products, creators can simply use ConvertKit, which provides both and email marketing. ConvertKit can go much further down this path. For example, it can provide some basic social media management features (which Mailchimp already does). It doesn't need to build social media team collaboration features for creators (usually a team of one), so that would eliminate a lot of work already. Another example is memberships features, similar to Substack and Ghost. Or even some basic design features eventually.
Another advantage of this strategy is it avoids a head-on collision with incumbents like Mailchimp and Klaviyo. Incumbents have been, and likely will always, focus on businesses instead of creators because, one, they have already been on that track for many years, which creates much inertia, and, two, they will find the creator segment much less profitable than the business segment. They might build features that creators could use but it's almost impossible they will build only for creators.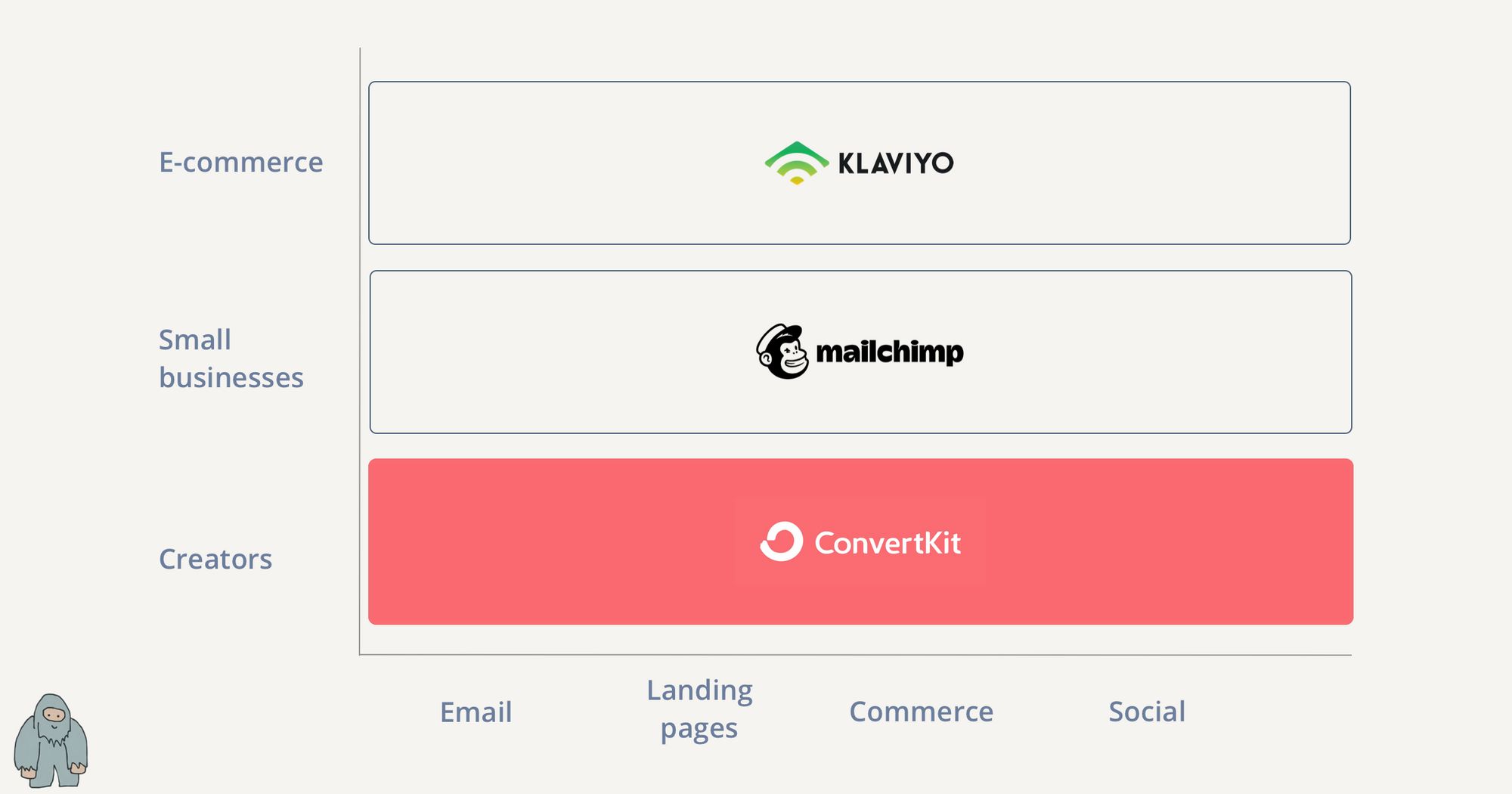 Niche + Product + Narrative
My takeaway from this analysis is that if you are entering a market with many incumbents, it should help to focus on a niche that they aren't. (Bonus points if the niche looks unprofitable but actually is.) This feels quite obvious writing it out but it's so common to see new startups competing head-on with incumbents without any unique value. On top of that, you also have to back it up with actual product differences and a consistent narrative through your marketing.