Feature, Product, and Company Positioning at Buffer
Alfred Lua / Written on 12 August 2020
Hello there,
Last week has been a low energy week again, and I'm feeling I could do with another break. Nevertheless, I drafted up a new set of onboarding emails, had a call with Customer.io to learn how to set up a complicated email campaign I have in mind, and worked with our marketing designer Julia Jaskólska on a Buffer video. I also have two product launches coming up but I'm waiting for the product team to make more progress before I can continue with my preparation and finalize the launch date. (Anyone has similar experiences with product launches?)
I also wrote about developing marketing acumen after realizing product people talk about product sense and designers talk about design taste but marketers rarely talk about this important soft skill.
This week, I want to share three positioning stories from my time at Buffer.
---
Positioning an Instagram link-in-bio feature
Let's start with one that didn't work so well.
The only link available on Instagram is on the bio, so many users would add "See link in bio" to their new posts and constantly change that link. To solve that problem, link-in-bio tools were created. These tools are essentially a mobile landing page showing the same Instagram gallery but the posts on this page can be linked to other places. We introduced a similar tool last year and called it "Shop Grid."
How did this name come about? As a company, our target customer was direct-to-consumer (DTC) brands. We were building for and marketing to them. This tool is meant to allow DTC brands to link to their product pages so that their Instagram followers can visit specific pages and buy the product—like a storefront. So we landed on the name "Shop Grid", which combines the idea of a storefront and the Instagram grid. We described it specifically as a "shoppable page" on our marketing materials.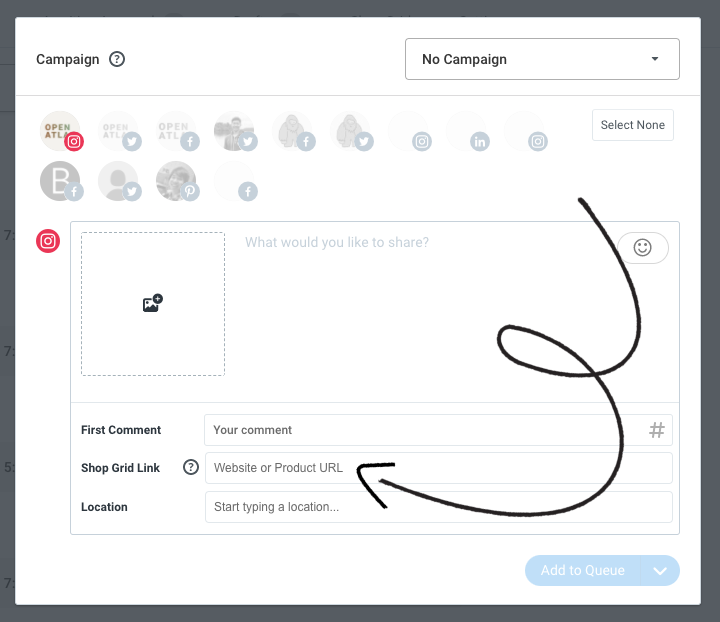 This caused two issues:
Customers thought this feature allows them to tag their products on their Instagram posts, just like Instagram Shopping. It doesn't. It creates a separate Instagram-like page with posts that are clickable. I received a few customer emails asking why the product tagging isn't working. We had confused them just with the name.
While we want DTC brands to use this feature to link to their product pages and sell their products, that isn't how the majority of brands use such link-in-bio tools. They use it as a way to link to blog posts, videos, landing pages, and more. But the term "Shop" in the name deterred brands that want to link to content and not only products, from using it. Having shopgr.id/brandname also doesn't look great on a brand's Instagram profile if it doesn't have a shop.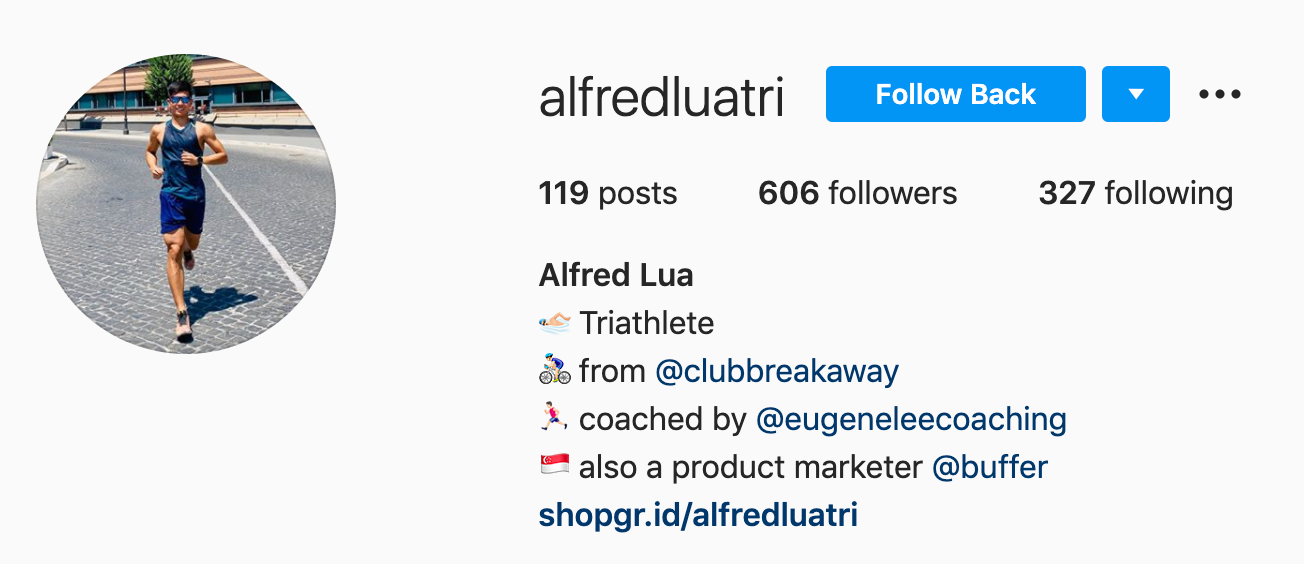 This was an interesting lesson on the difference between what we want customers to do with a new feature versus what they actually do with the feature. If I were to make changes to this, I might rename it as something to-the-point such as Instagram bio page and allow brands to customize the domain as theirdomain.com/instagram. (What would you do?)
One thing I think we did well for this feature is to position it as a part of Buffer rather than a standalone tool. Because it integrates with Buffer, scheduled Instagram posts with a Shop Grid link will automatically appear on their Shop Grid. This makes the tool much more valuable than standalone link-in-bio tools, and it was important to highlight that.
If you are curious, you can check out our positioning here.
Positioning our standalone analytics product
Over the last few years, we built a standalone analytics product, Analyze, and were beta-testing with several customers. When I switched roles to become a product marketer, I was given the opportunity to launch the product to the public.
It came with several challenges. For example, while our flagship product allows customers to plan and schedule posts to Facebook, Instagram, Twitter, LinkedIn, and Pinterest, Analyze only integrated with Facebook and Instagram. (The original plan was to launch with only the Instagram integration, and I pushed for the Facebook integration. This delayed the launch and got me into some trouble. But I'd do the same if I were to turn back time.)
To position this new product, I relied on April Dunford's book, Obviously Awesome: How to Nail Product Positioning So Customers Get It, Buy It, Love It. I tried to answer the following questions:
What are the competitive alternatives?
What are our unique attributes?
What is our value (and proof)?
What is our target market?
What is our market category?
Are there any market trends we can tap on for the moment?
The most important question for me was what is our market category. This was important because it would create the framing people think about our product, judge our product, and compare our product with competitors. Buffer has been positioned as an all-in-one social media management platform because it integrates with the five major social networks. But Analyze isn't. If I were to call it an all-in-one social media analytics tool, people's minds would immediately think of it as a Hootsuite or Sprout Social competitor. It technically is but this framing would have given us a disadvantage because we didn't integrate with Twitter, LinkedIn, and Pinterest. Our product would be deemed inferior immediately. In the end, I called it "Buffer's Facebook and Instagram analytics and reporting tool". I added "Buffer's" at the front because we found from customers that they like Analyze because it's a Buffer product and people trust our brand.
According to the responses to the product launch, this seemed to have the right framing I wanted. On Product Hunt, there was only one question about more integrations and it was for Facebook Group, not Twitter, LinkedIn, or Pinterest. Phew.
This is one of the biggest positioning lessons I've learned. Where I position our product in the market will influence how people think about our product and what competitors they compare our product with. I can shape how they think!
Positioning Buffer
For a long time, Buffer was positioned as an all-in-one social media management tool. It didn't feel like an intentional decision. We just somehow ended up with it because of the way our product worked. Looking back, this should have been a sign of troubles to come.
About two years ago, our CEO decided we should focus on a niche because our growth started to stagnate. After some research, it was decided we would focus specifically on direct-to-consumer (DTC) brands. We would be the best social media solution for DTC brands. Recently, we pivoted from it. Our CEO said we would focus on small businesses and DTC brands are one of our customer personas.
To be very transparent, I don't really understand what that means. It might be because I'm inexperienced but it doesn't seem to give the team a clear direction. To me, it's important we answer a simple (but not easy) question:
What are we building for whom?
My favorite example of this is ConvertKit. It is an email marketing platform for online creators.
I have many thoughts on this, so I wrote an essay and shared it with our CEO and product team. Briefly, here's what I shared:
Company uniqueness: I first analyzed our company's uniqueness because I think we should take advantage of it. From my perspective, it boils down to three things: small team size, popularity among bloggers and really small businesses, and a reputation as an all-in-one social media management platform.
Market landscape: Next, I dissected to market to see where we could position ourselves. There are generally three ways to look at the social media space: One, by company size. Sprinklr targets enterprises like Coca-Cola, Buffer targets small businesses and individuals, and Sprout Social targets every company in between. Two, by needs. Tools like Tailwind and Planoly don't target a specific company size but focus on a need, such as visual marketing. Three, by industry. For example, Foursixty focuses on only Instagram for e-commerce brands. They have a shoppable Instagram gallery, Instagram analytics, and integrate with e-commerce platforms like Squarespace, Shopify, and WordPress.
My recommendation: Finally, I gave my recommendation and explanations. I suggested we position ourselves as the general-purpose social media management software for creators and small brands who want to be on the top few social media platforms (and not everywhere).
I didn't think my idea is perfect, so I wanted to start a discussion with the relevant stakeholders. Well, it didn't spark the conversation I had wanted, and it eventually faded into the background. Maybe because this is way above my pay grade. Maybe I wasn't convincing enough. This is yet another reminder of the importance of being able to sell my ideas to others in the team and convince them.
I think it is crucial for, at least, the product and marketing teams to come together to discuss and set the positioning for the company. Then the product team can use it to guide their product roadmap while the marketing team can reinforce the positioning through campaigns. This isn't happening at Buffer now, and I hope it happens soon. (Any advice on how I can make this happen?)