How to Get Close to Your Customers
Alfred Lua / Written on 24 June 2020
Hello there,
The last Weekly Note on Buffer's product discovery document had a 64 percent open rate, highest in a while. In it, I talked about the product discovery we now do during our product planning process.
The last Weekly Analysis is on creating and sustaining a competitive advantage when many products seem commoditized nowadays. Using Michael Porter's theories, I wrote about how companies like ConvertKit, Roam Research, and Basecamp are competing with incumbents in their industry.
Today's note is on something I find important for marketers and product people alike.
Knowing your customers
For the past few months, I have worked hard to be the person that knows the most about our customers and to share that knowledge with the team.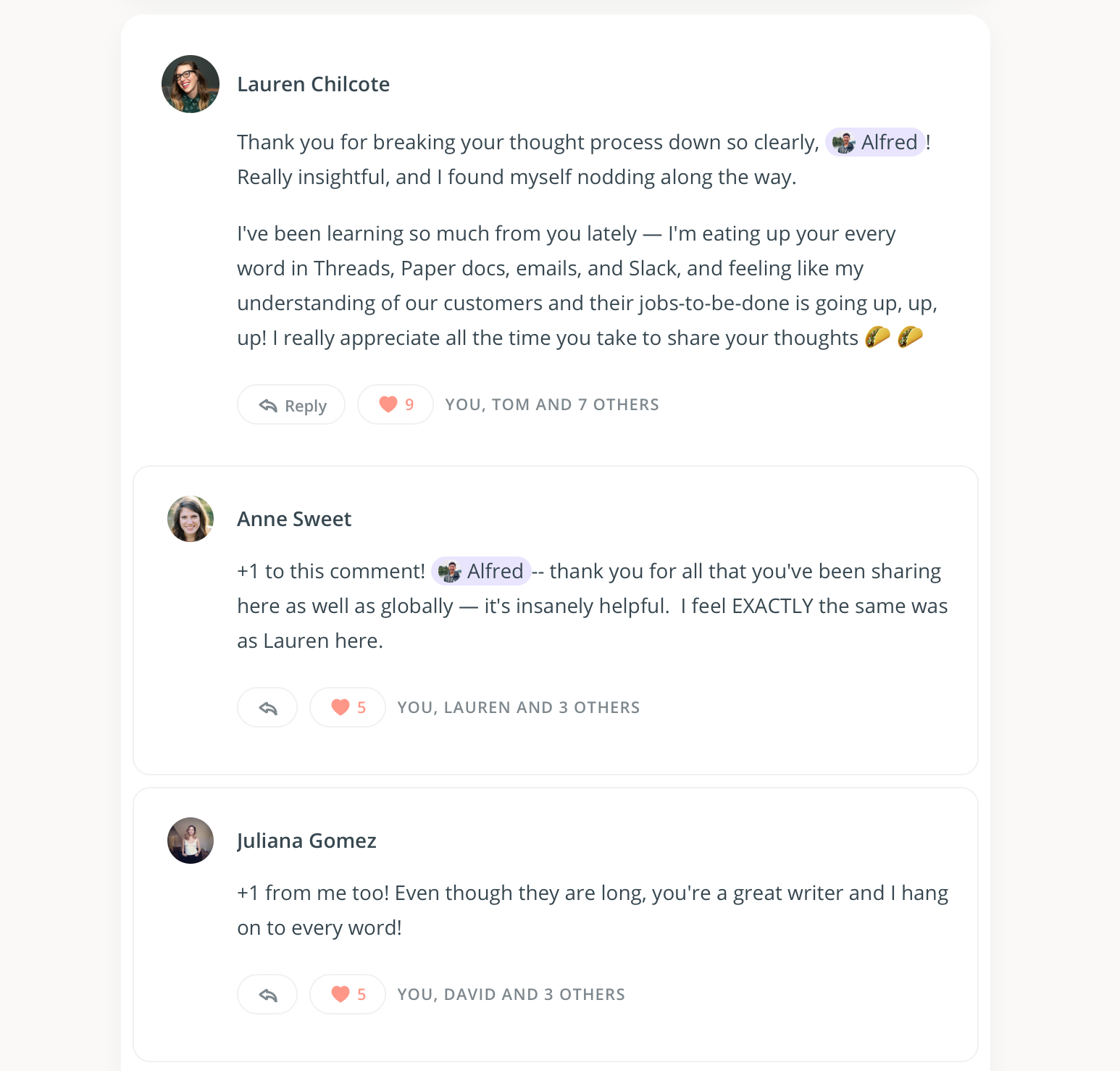 Lauren is our product designer, Anne is our product manager, and Juliana is our product engineer. Sorry, I want to show how my team found my customer insights useful but this might feel like I'm bragging. The path here wasn't straightforward, though! Those who know their customers best win.
I have seen multiple variations of that statement over the years. It often feels like something so obvious yet I get this feeling that many marketers and product people, including me, don't truly understand their customers. Over the past few months, I have been thinking about this over and over again.
How do you write copy or content if you don't understand the people who will be reading it? How do you build a product for a group of people you don't understand?
Lucky for me, I started my Buffer career as a content marketer, and I focused on writing long-form, educational guides for social media managers. To (try to) teach them, I had to understand social media marketing well. And to write better content than others, I pushed myself to learn every new thing on and about social media, such as new platforms and new features, and brainstorm ways marketers can make use of them. This gave me a great understanding of social media managers and helped me stay at the forefront of social media marketing. Oftentimes I even feel a few steps ahead of others.
But even then, I felt that was not enough. While I know what social media marketers in general want, I don't exactly know what our customers want and in what order.
After working with our product team for more than a year, I've learned we need the latter to build a great product. Here are some reasons why:
There are a billion things social media managers want. A core feature like an editorial calendar is a must-have while add-ons like hashtag suggestions are nice-to-haves. Even if we have the most powerful hashtag suggestions feature, customers would leave if they can't do their core job (i.e. plan their social media content) in Buffer. The order we build features is important.
Sometimes what social media managers want could take us a year to build but we can't afford to stop everything and work on that for a year. (Ideally, we will try to ship a smaller version of it.)
Many times we are restricted by what APIs allow us to do. Even if something is valuable for social media managers, we might not have the technical means to build it.
Generally speaking, we often have ongoing projects committed earlier, so we can't work on new things immediately. This makes planning and prioritization even more important so that we are working on the most important projects (most of the time) and not have to drop everything to work on something that suddenly became important.
Knowing what your target audience wants is not enough or entirely helpful. You need to know what your customers (and target customers) want and in what order.
So how do you go about doing that?
I have been trying a bunch of ideas. Some worked, many didn't. But those were sufficient for me to get and share valuable customer insights with the product team.
First, use your data
Looking at your product usage data is a great first step to understanding what your customers want from your product. While you might have built your product in a certain way, customers usually use it in other ways to do their job.
Over the past year, we invested in improving our product analytics and data cleanliness with Segment and Mixpanel. Instead of writing complex SQL queries to find out how our customers are using Buffer, anyone, including non-technical people, can get product usage data with a few clicks in Mixpanel now. (I should mention this is our biggest investment in many years and took many months to be implemented. Big kudos to the team involved!)
For example, I discovered a consistent spike in the number of users creating social media reports in Buffer every first Monday of the month. This matches my intuition that social media managers create monthly reports.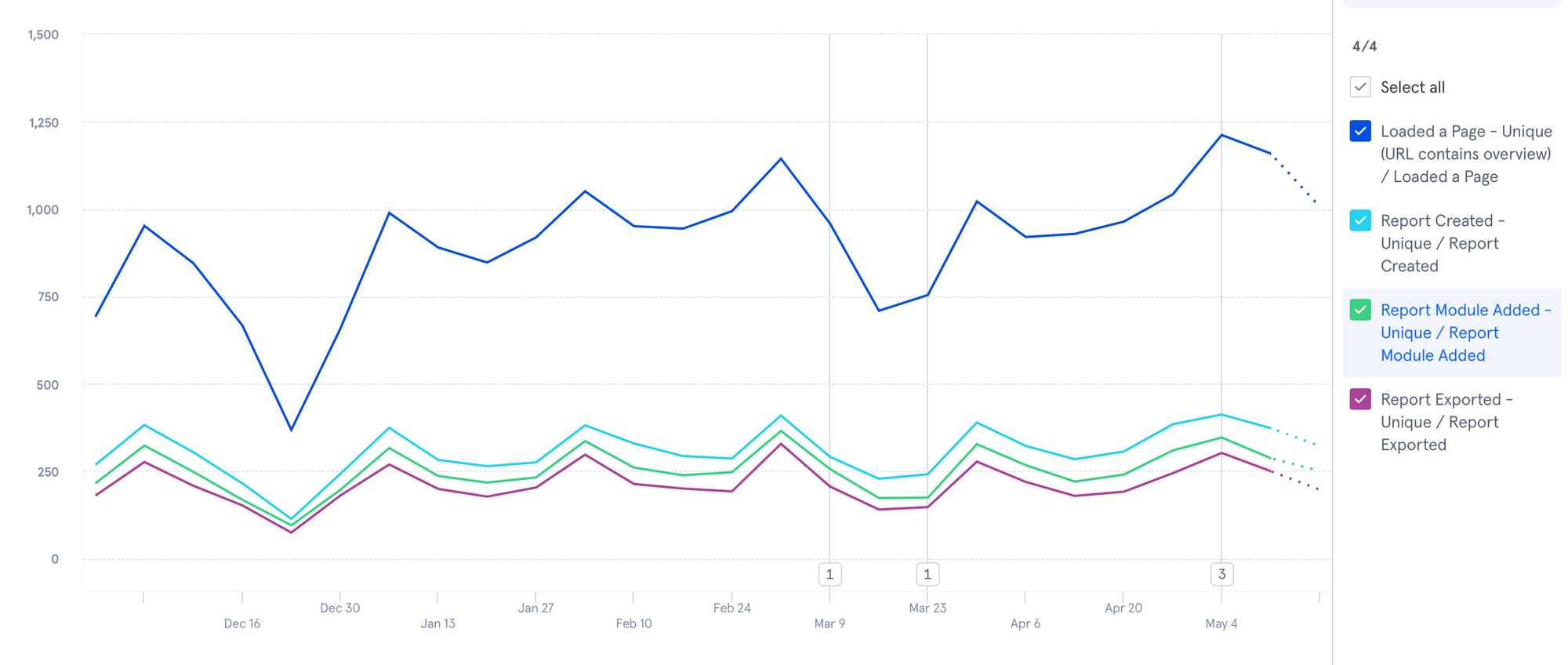 With a couple more data points, such as report titles and customer interviews, I deduced customers usually create reports every first Monday of the month.
But there are always some things customers want to do but cannot because your product simply doesn't allow them and there aren't workarounds. You then need to speak to your customers (or target customers).
But how do you find them?
Second, be where your customers are
This is where I failed multiple times. I'll start with the ideas that had the least success:
Slack group
I thought it'll be great to have a Slack group with customers for research purposes. I didn't want it to be a community but just a place where I can message customers quickly like messaging a friend (and customers can reach me easily, too). I envisioned being able to message a few close customers whenever I have questions about how they do certain things for social media and get replies quickly.
I emailed 16 customers. Five were interested, four joined the Slack group, one responded to my messages.
I had great conversations with that one customer. I learned how social media fit into her role, asked how she has been using Analyze, and got her feedback on a few early designs.
But it was just one customer. My hunch is that I was asking a lot from our customers. Responding to my email while they have many other better things to work on is a big ask already. For this, I'm asking them to read my email, reply to me, join a Slack group, and then be responsive.
I gradually put this project on the back burner because I'm not sure it's the highest leverage way to learn about our customers. While only one out of 16 customers I emailed was responsive, she was very helpful. Perhaps this is a numbers game, and I just need to email more customers. I might pick this up again when I run out of ideas.
Open Atlas
Instead of finding our customers, why not become a customer myself?
I wrote about how Tim Soulo of Ahrefs used Ahrefs to successfully grow their own blog. So I set out to create a simple e-commerce business and build the brand on social media with Buffer. Open Atlas is the brand.
Starting a brand is not the easiest thing to do, and it takes time to create a product, to source for suppliers, to create a website, etc. Thankfully I could start building a brand without having a product.
While using Buffer to grow an audience on Instagram, I have already come across several pain points that I believe our customers are experiencing, too. This is great but until I actually have a brand, I might not fully understand our customers this way.
reddit
There's a subreddit for pretty much anything, so there's probably a subreddit where your customers (and target customers) are hanging out. So far, I've found relevant discussions in r/socialmedia, r/marketing, r/ecommerce, and r/shopify. There are probably more that I'm not aware of yet.
What's great about reddit is that it would curate the top threads in the subreddits into an email and send it to you every day. Some subreddits have many threads a day, so it's too time-consuming to check reddit every day.
I scan through the reddit emails once every few days and only read threads that seem relevant to a feature we are working on or planning to work on soon. For example, I found a few threads on hashtag suggestions and analytics, creating social media reports, and growing an audience on social media. It is especially helpful to read how social media managers are describing their problems or their workflows because their words can become powerful copy on marketing assets or in the product.
The downside is that conversations can sometimes be quite generic, especially because social media is a broad topic. So I don't always get actionable insights.
Facebook Groups
This is quite similar to subreddits but a little more focused.
I have found relevant conversations in Facebook Groups such as Social Media Managers and The Social Media Geekout. For example, we are planning to work on an editorial calendar and team collaboration features, and I recently spotted a conversation on weekly vs monthly content planning and another on approval processes with managers or clients.
But this is a little dependent on my luck because Facebook just so happened to show those conversations (among the many others) in my feed.
Twitter
I found the most success in connecting with our customers on Twitter because many are heavy Twitter users. Believe it or not, as I'm writing this, I'm also chatting with a customer on Twitter.
I have a column in TweekDeck for tweets that include "@buffer" and have at least one like. Many people tweet about Buffer (which is awesome) but that makes it hard to find relevant conversations. I found adding the condition of having at least one like helps drastically reduce the number of tweets. I might miss a few conversations this way but it is better than having too many tweets to go through and not wanting to do it.
Once a day, I'd scroll through the list and look for conversations to participate in. Sometimes it's a complaint about certain features. Sometimes it's a question about our product. As product marketers and product managers, these are invaluable insights. If the same question about a feature keeps coming up, there's likely an opportunity to either improve the positioning of the feature or create educational content around the feature or simplify the feature.
Connect the dots
These conversations can tell you what customers want but they might not always reveal the relative importance to the customers or inform you want to build first. I either try to ask the customers directly or try to make an educated guess based on the intuition I have built from multiple sources of data.
Once you have these insights, don't keep them to yourself because it doesn't help the team. Share them in a way that your teammates would want to read.
If you're interested in how I share customer insights (and sometimes influence the roadmap), let me know and I'll write about it in a future Weekly Note.