Pinterest Partners With Shopify: Why It's Better for Shopify Than Pinterest
Alfred Lua / Written on 15 May 2020
Hello,
I just added a new component to the Yeti Distro subscription. Paying subscribers will now receive Weekly Notes every Wednesday morning (US).
Weekly Notes are my private notes on things I'm working on at Buffer and on the side. This week, I shared a job description I wrote for myself after a year of experimenting with different ideas and projects. A few other topics I have in mind are the bundle experiments I ran, the research briefs I'm writing for our product team now, and how I work with our product manager and product designer.
If you are interested, you can subscribe to Yeti Distro here at $5 per month.
I'll still be sending out the Weekly Analyses on Fridays, which will be available to all from now on.
Here's my analysis for this week:
Pinterest X Shopify
Pinterest launched a new Shopify app last week to allow merchants to easily upload their products to Pinterest to create shoppable Product Pins and Pinterest ads. Merchants will also have an additional tab (Shop) on their Pinterest profile, which will list their products.
From the Pinterest Newsroom:
As more people than ever come to Pinterest to find inspiration for supporting small businesses, furnishing their work from home setups, gifts to cheer up friends, and activities to do with their kids, there's an increasing opportunity for retailers to get their products in front of Pinners.

Today we're launching a new app with Shopify that gives their more than one million merchants a quick way to upload catalogs to Pinterest and turn their products into shoppable Product Pins, in just a few clicks.

The Pinterest app on Shopify includes a suite of shopping features like tag installation, catalog ingestion, automatic daily updating of products, and an ads buying interface. For Shopify merchants, this means easy set up and access to distribution across Pinterest with or without ads, as well as reporting and results tracking to maximize reach. The app automatically creates a connection between the individual store and Pinterest, so the merchant doesn't need to edit code or add development resources, making it seamless for businesses of all sizes.
There are many interesting things to breakdown here, so let's dive right in!
Pinterest: Business vs content
From my work at Buffer, I noticed that most e-commerce brands are primarily marketing on Instagram and Facebook and less on Pinterest. I would assume Pinterest to be attractive to e-commerce brands because it allows them to link every Pin to their website, unlike Instagram, and people usually go to Pinterest with an intention to buy or to plan to buy something [1]. But the sheer size of Instagram and Facebook seems to have outweighed those advantages. Pinterest currently only has 300+ million monthly active users while Instagram and Facebook have more than three billion monthly active users, which is 10 times more.
This partnership with Shopify is good for Pinterest because it will help to attract more businesses to use Pinterest. First, it is easier to share content on Pinterest now. Just upload your catalogs and you'll have images to turn into shoppable Product Pins and even ads. From my experience in the social media space for the last five years, one consistent challenge that businesses face is creating social media content, especially images or videos. This integration can help solve that. Photos that businesses use on their product pages can now be easily turned into content. Second, businesses that use the Pinterest integration will have an additional "Shop" tab on their Pinterest profile. This could give them free organic reach, which many are struggling to get on Instagram and Facebook. The idea is that if a business could attract users to its Pinterest profile, they might browse the other products in its Shop tab. I'm doubtful this will lead to a significant increase in organic reach for businesses on Pinterest. Nevertheless, the results so far seem promising for businesses:
The number of Pinners who have engaged with shoppable Product Pins has increased 44% year-over-year, and total traffic to retailers has increased by 2.3x year-over-year.
But it is questionable whether this will be good for Pinterest overall. Making it easier to share content will likely reduce the quality of the content. Twitter has experienced this before. Businesses and individuals used to (and some still) automate sharing blog posts to Twitter without much thought. The tweets are often just the title of the blog post and a link to the blog post. This could also happen to Pinterest if merchants simply share their products on Pinterest without making the effort to choose a high-quality image and write an engaging caption. The success of Pinterest, like all social media platforms, ultimately depends on the quality of content on it. If the proportion of bad content increases, engagement on the platform will fall.
Thankfully, there are two things that might prevent that from happening:
Algorithmic feed: Unlike Twitter's reverse-chronological feed, Pinterest has an algorithmic feed that shows content based on users' actions and engagement. Content that isn't engaging will get less reach. We can then expect businesses that want to stand out on Pinterest to invest in creating better content, like how businesses are trying to do on Instagram. (This is why I think algorithmic feeds are great for businesses and marketers.)
Rising quality bar: With the explosion of direct-to-consumer brands like Allbirds and Casper, e-commerce brands seem to be more conscious of their website design. They no longer simply display their products with a white background. For example, this product page of a Tracksmith running jacket has 11 high-quality photos of runners wearing the jacket in action. If they are shared directly to Pinterest, it wouldn't be that bad (though I think the marketer should still craft a thoughtful caption).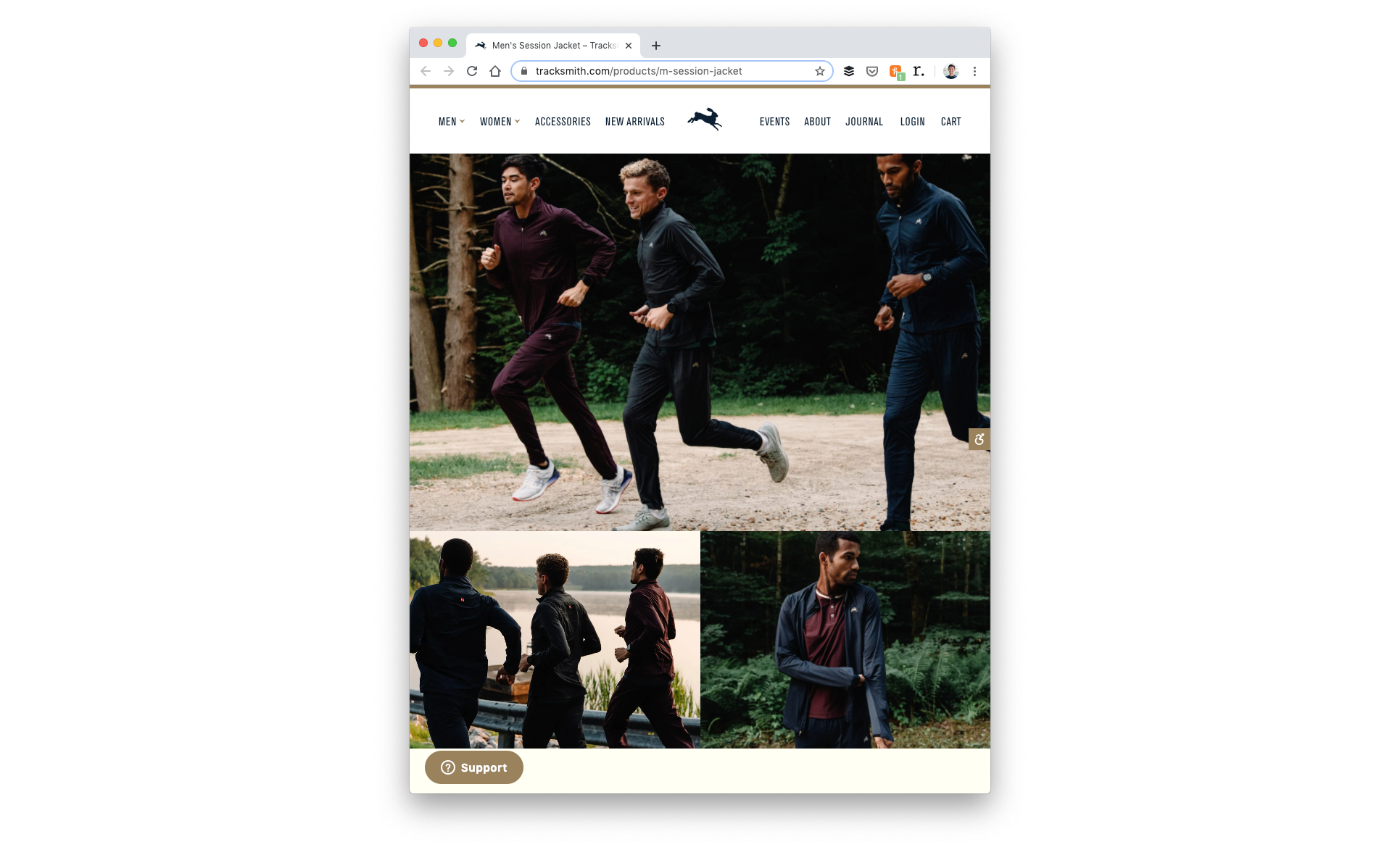 Shopify: From partnerships to ecosystem
On Shopify's end, I think the partnership is a clear net gain.
When arguing how Shopify will not build a marketplace with Shop, I mentioned Shopify's strategy has always been to help merchants build their own store and unique brand.
Shopify's strategy has always been about giving merchants the tools to set up their own online store and build their unique brand, without trying to enforce Shopify's branding on the merchants' store. The focus is on the individual merchants, and not Shopify as a whole. I doubt competing with their merchants is a good strategy. Putting merchants within a Shopify app runs counter to what they have done so far.
Pinterest, on the other hand, is an aggregator that brings brands and consumers together. So it is better positioned to be a marketplace. And this is why partnering Pinterest makes sense for Shopify. This partnership reinforces Shopify's core strategy. Shopify is giving merchants another tool to build their brand and sell their products. It's akin to letting merchants sell in another (digital) mall. Merchants can market their products to more people with shoppable Product Pins and the Shop tab on their Pinterest profile.
This single Pinterest integration can be seen as a retention strategy for Shopify. It'll make existing merchants happy but it's unlikely to cause customers to switch from other e-commerce platforms. BigCommerce, WooCommerce, and Magento do have a similar Pinterest integration, though with fewer features.
But what's interesting is how Shopify has been able to get such partnerships before other e-commerce platforms. When Pinterest introduced Buyable Pins (the older version of Product Pins) in 2015, Shopify also seemed to be the first e-commerce platform to offer that. Shopify also seems to have built a close relationship with Facebook in terms of experimenting with commerce. It is crucial for Shopify to maintain this first-mover advantage for more integrations so that it can build up and maintain a stronger ecosystem around itself than its competitors can.
All these retention-type integrations eventually lead up to Shopify's ecosystem play, which is an acquisition, retention, and expansion strategy:
Acquisition: In 2019, Shopify acquired about 200,000 new merchants, and about 10 percent were referred by the partners in their ecosystem. This is similar to the ecosystem around WordPress. The company with the most comprehensive ecosystem of partners who can support the customers with apps, themes, and services, has an advantage in acquiring new customers.
Retention: This same ecosystem will help Shopify retain merchants as they get more apps and services to build their brand and sell their products, sometimes for free like this Pinterest app.
Expansion: Finally, when merchants grow, they upgrade to higher subscription plans, purchase more Shopify apps, and use more merchant solutions. Shopify has this neat chart in its annual report showing how the revenue from each cohort has been growing each year: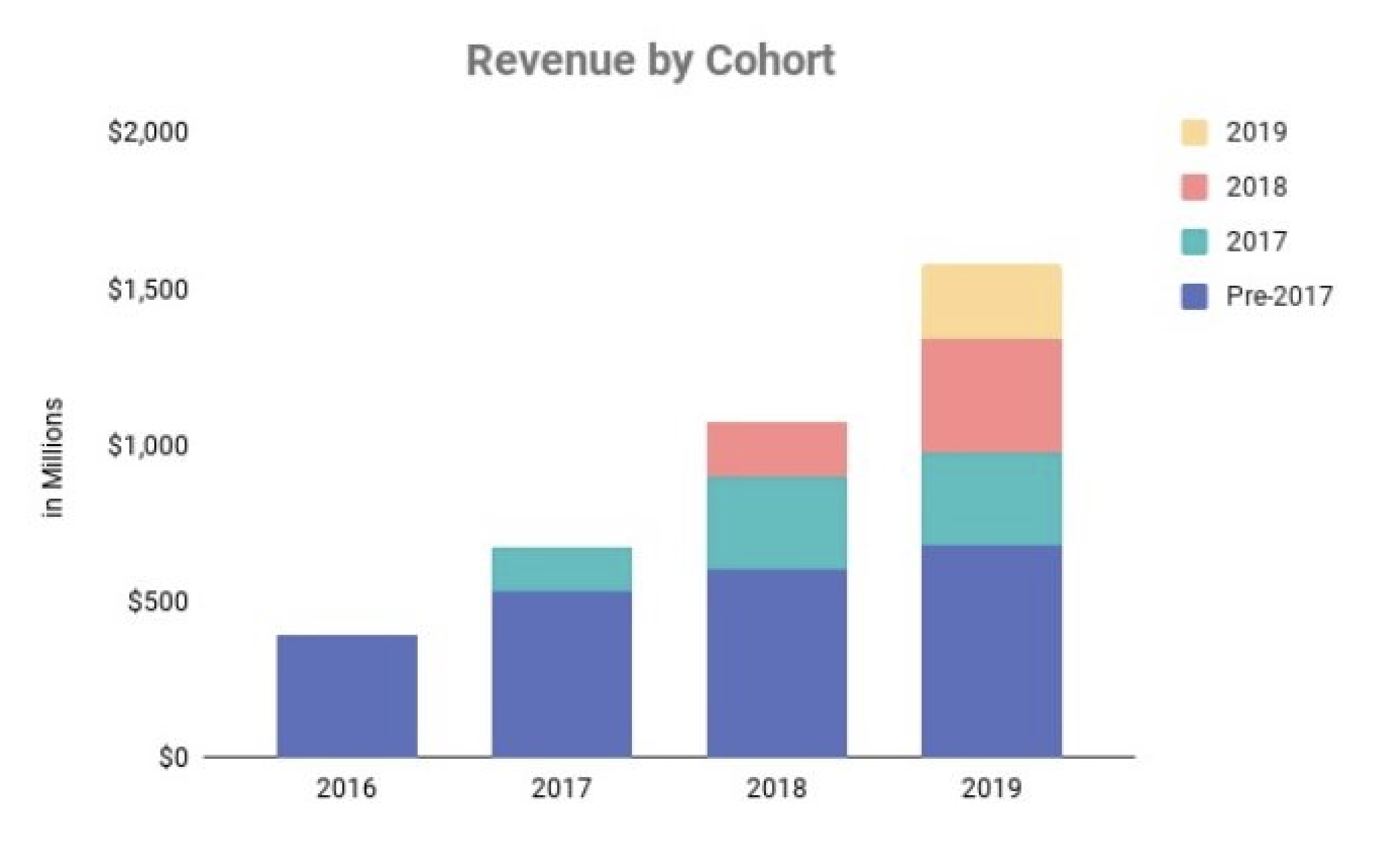 Overall, this partnership is a smart move by Shopify and whether it'll be net positive for Pinterest, only time will tell.
---
[1]: From Shopify's press release: "The Pinterest community has high shopping intent, with over 80% of weekly pinners having made a purchase based on a pin they liked."