Shopify's Secret Bet with Shop
Alfred Lua / Written on 08 May 2020
Last week, Shopify launched a new mobile shopping app, Shop. The app isn't entirely new. Shopify already had Arrive, a package tracking app, that's used by 16 million people. Shopify added more features to Arrive and rebranded it as Shop.
(It is a smart distribution move to build on top of an existing app so that Shopify doesn't have to acquire users from scratch.)
On top of tracking their packages, users can now search for and follow brands, browse recommended products across all the brands they follow or for a specific brand, and buy with one click, using Shopify's Shop Pay.
The app seemed to not have met expectations.
As several others have discovered, you can search for brands but not products. For example, if I'm looking for shoes and I search for "shoes", I get a list of Shopify stores with "shoes" at the front of their name. I need to search for specific shoe brands, such as "Allbirds", "Rothy's", or "Steve Madden".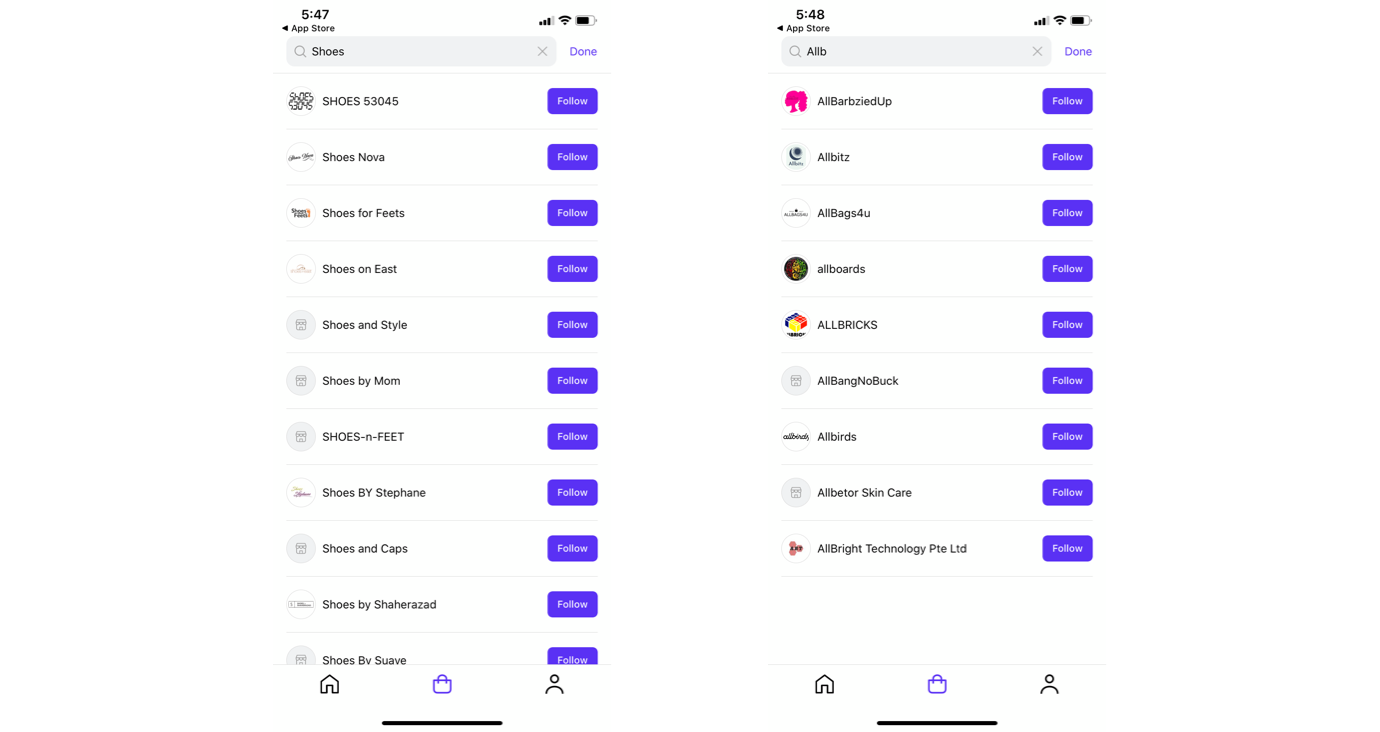 I think many instinctively assume that if Shop is a consumer shopping app, Shop should make it easy for consumers to search for the products they want. Just like how Amazon does it.
But I argue that is the exact opposite of what Shopify is trying to achieve here.
Why not a Shopify marketplace app?
Build a marketplace like Amazon is against everything Shopify has done.
Shopify's strategy has always been about giving merchants the tools to set up their own online store and build their unique brand, without trying to enforce Shopify's branding on the merchants' store. The focus is on the individual merchants, and not Shopify as a whole. I doubt competing with their merchants is a good strategy. Putting merchants within a Shopify app runs counter to what they have done so far.
Shopify CEO Tobias Lütke likes to say Shopify is trying to arm the rebels while Amazon is trying to build an empire. If Shop becomes a marketplace for Shopify merchants, it would become an empire.
There are a few more hints that building a marketplace app isn't on Shopify's plan.
When launching Shopify Email, Shopify's chief product officer Craig Miller talked about how their products aim to help brands sell directly to their customers; a marketplace isn't as direct:
"The common thread among all of [our new products] is to help brands sell directly to their customers," Miller said. "There's been a lot of talk lately about direct-to-consumer, but that's something we've doing for a decade and a half without calling it that." [emphasis mine]
Also, Carl Rivera, GM of Shop, talked about how Shop is not designed to be a discovery platform, which explains why the search is for brands and not products:
"This was not designed to be a discovery platform," says Carl Rivera, GM at Shopify, who led the launch of the Shop app. "This is a way for brands to own and deepen their relationship with their customers." [emphasis mine]
I argue that Shop is just one step towards a bigger plan: to build tools for merchants to convert their stores into native mobile apps.
My hunch is Shopify is trying to quickly collect data on consumers' shopping behavior and then tell merchants, "look millions of people are searching for your brand via a mobile app. Imagine you have a mobile app for your store! Oh, and there's a tool to help you build it."
Betting on the next wave of consumer behavior
I'm guessing Shopify is not building a marketplace like Amazon with Shop. It is betting on the next wave of consumer shopping behavior: shopping from brands' mobile apps.
And to ride this mobile shopping wave, Shopify will have provide the ability for their merchants to easily turn their stores into mobile apps.
There are three reasons why it's reasonable to expect Shopify to venture down this path:
First, consumers are already browsing and shopping on mobile. 130 million Instagram users are tapping on shopping posts to learn more about products in the posts every month. (Facebook doesn't seem to share the data of the number of users who have bought things on Instagram). And Instagram Shopping is still not available to businesses in several countries. I expect this number to grow as the feature becomes available to more businesses.
So shopping via a brand's app doesn't feel too far off. Albeit anecdotally, I have seen my wife go to her favorite brands' Instagram account to view their products via their Instagram Stories. She also browses, on her phone, their new products in their email newsletters, which they send up to three times a week. I believe this is quite a common behavior.
Second, mobile is increasingly the window to the Internet for many people around the world. For many big markets, Internet usage on mobile is much higher than that on desktop. According to Statcounter, globally, about 55 percent of Internet usage are on mobile (including tablets) and about 45 percent are on desktop. The different is greater in Africa and Asia (65-35). Furthermore, the browser is no longer the Internet to many people. Apps such as Facebook and WhatsApp is the new Internet. While Shopify stores are mobile-optimized, the shopping experience on a native mobile app will be more seamless. I also suspect the adoption of mobile apps for shopping will be higher than that of mobile browsers.
Third, brands are already creating their own mobile apps. A search for "shoes" in the App Store showed me apps from popular brands such as Adidas, Urban Outfitters, and Sephora (an ad). There are also existing tools for converting Shopify stores into mobile apps, such as Plobal, Tapcart, MageNative, and Vajro. These four tools alone have almost 1,000 ratings on the Shopify App Store, with an average rating between 4.6 and 4.9 out of five.
If you think about it, the pitch from Shopify to merchants can be quite attractive:
Besides using social media ads and sending emails, build an app to own a piece of real estate on your customers' smartphone. That's the closest you can get to the customer. No distractions from other Instagram posts or two thousand unread emails. And you can send offers to your customers directly to their smartphone, which they check two million times a day.
Shopify could charge an add-on fee for such a functionality, like it did with Shopify Email.
During Shop's launch, Carl Rivera also told TechCrunch how shopping is moving towards native mobile apps and it is hard for merchants to build their own app:
Carl Rivera, the general manager of Shop, told me that the app is a response to a broader shift — not just from desktop to mobile commerce, but also from mobile web to native mobile apps. The challenge, he suggested, is that most of us only download and shop from a handful of native apps, so it can be hard for an independent brand to launch an app of their own. [emphasis mine]
In other words, Shopify can help.
I don't think the challenge that most people only download and shop from a handful of native apps would stop Shopify from helping merchants build their own native mobile apps. Most people only shop from their favorite brands, which is a handful. And it's possible if more brands have native apps, we would download and shop from more apps.
What's the strategy?
I think there are two strategies to look at: how Shopify would distribute their "mobile app creator" and how they would expand and grow this new line of business.
First, Shopify already has a great distribution channel for this new tool: Shopify itself.
Like Marc Andreessen said, most successful tech companies are the distribution channel for themselves. Once they have built up a base of customers, they can easily push many new products to those customers. Think about how Google can simply embed Google Meet in Gmail and reach more than a billion users immediately.
Shopify has been doing the same. Shopify Email and Shopify POS are examples of recent products that have followed this playbook. According to their 2019 annual report, merchants spend more money on Shopify as they grow:
When our merchants grow their sales and become more successful, they consume more of our merchant solutions, upgrade to higher subscription plans, and purchase additional apps. We consider our merchants' success to be one of the most powerful drivers of our business model. The chart below displays the annual revenue for merchant cohorts that joined the Shopify platform at different times in our history. The strength of our business model lies in the consistent revenue growth coming from each cohort: the increase in revenue from remaining merchants growing within a cohort offsets the decline in revenue from merchants leaving the platform. [emphasis mine]
We had a similar experience at Buffer while growing Analyze, our standalone social media analytics product. Because we already have a customer base who would be interested in the product, we were able to quickly grow the usage. It took us about five months from the public launch to getting 1,700 customers and $1,000,000 in annual recurring revenue.
Second, I imagine Shopify would target the "beginners" or merchants who just need simple help, and expand upwards. This might be what they are doing with Shopify Email now.
When launching Shopify Email on Product Hunt, a Product Hunt user asked Jacinthe Ricard, a Product Manager at Shopify, "How does this product compare to Klaviyo?" Ricard responded:
"Hi Alexander - thanks for your question. Shopify Email is built for merchants who are new to marketing their business. You can check out our features on our product landing page linked above." [emphasis mine]
Shopify Email seems to be intentionally designed to be simple (or minimal features) so that merchants can easily create and send emails about their products. Having worked with small businesses at Buffer, especially those whose founders are doing the marketing, I learned that they prefer simplicity to sophistication. For example, they would rather see a few key metrics quickly than spend time dissecting their data in analytics. In terms of emails, I expect them to prefer quickly sending a simple yet nice-looking email to spending time customizing it to the last detail.
This segment of the market is often ignored by the incumbents who have developed their products for more advanced users (who are also more willing to pay more). For simplicity, if a merchant has 2,500 customers and sends an email once a month (not unreasonable for a small business), she doesn't have to pay anything for Shopify Email. This will cost $29.99 per month for Mailchimp and $60 per month for Klaviyo. Mailchimp and Klaviyo have more advanced features than Shopify Email, so the cost makes sense. But it's likely that small businesses don't need those extra features and would happily use Shopify Email.
Over time, I suspect Shopify would develop more advanced features while keeping the price more affordable than its competitors to attract merchants in other segments over.
Likewise for Shopify "mobile app creator", Shopify could introduce a lightweight tool to help small, small businesses create native apps for their store at a low price or even free. It could then gradually introduce more advanced features (e.g. memberships, discounts, customer support) and charge more.
Shop Mall
Of course, all these are my speculations.
Shopify might simply keep Shop as an unbranded mobile mall where consumers can shop by stores rather than products. Despite many criticisms for how their search is for stores and not products, I don't believe it will be an issue. Traditionally, we have been shopping at malls by stores and not products. Yes, it's less efficient but I don't think people are optimizing for efficiency when shopping at their favorite brands. They go to the store and browse slowly. Now they can do that on Shop—without having to walk in between stores.
But I do hope Shopify enters the app creation space because it'll help independent businesses get even closer to their customers, "making commerce better for everyone" as the Shopify mission says.