Why Wix Markets Itself as a Free Website Builder When It Is Much More Than That
Alfred Lua / Written on 21 August 2020
In case you haven't been following the stock market, Wix's stock price went pretty much vertically up this year.

This is probably an overreaction by investors as millions of small businesses that move online in response to the pandemic, all need a website. Even if we were to discount this overreaction, we'll see that Wix has had great consistent growth over the years, with its revenue growing at more than 20% annually.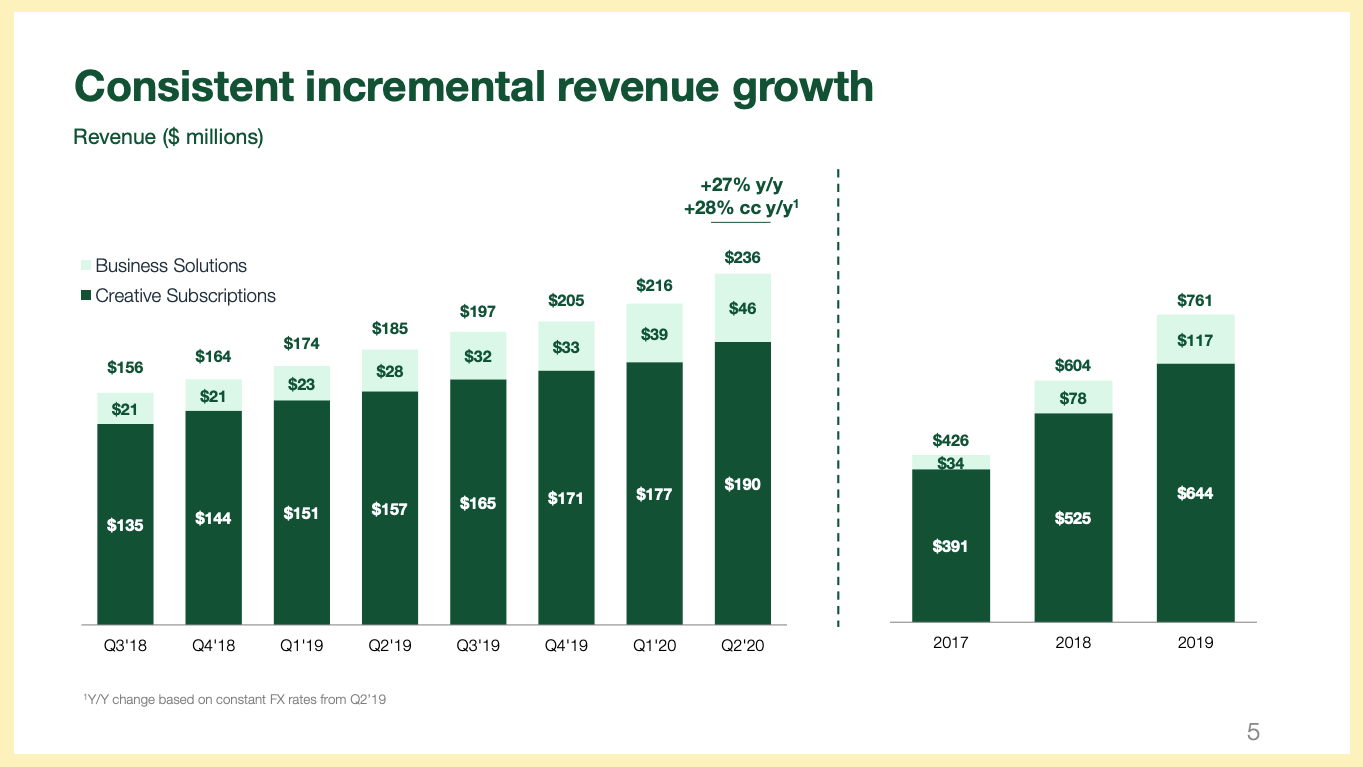 It now has over five million paying subscribers and 170 million users who have at least started building a website with Wix.
If I understand the following chart correctly, newer cohorts of users are paying Wix more and at a faster rate than earlier cohorts. This feels like a great indication of a strong business because this means it is acquiring more customers each quarter or each customer is paying more or customers are spending more at a faster rate—or all of the above.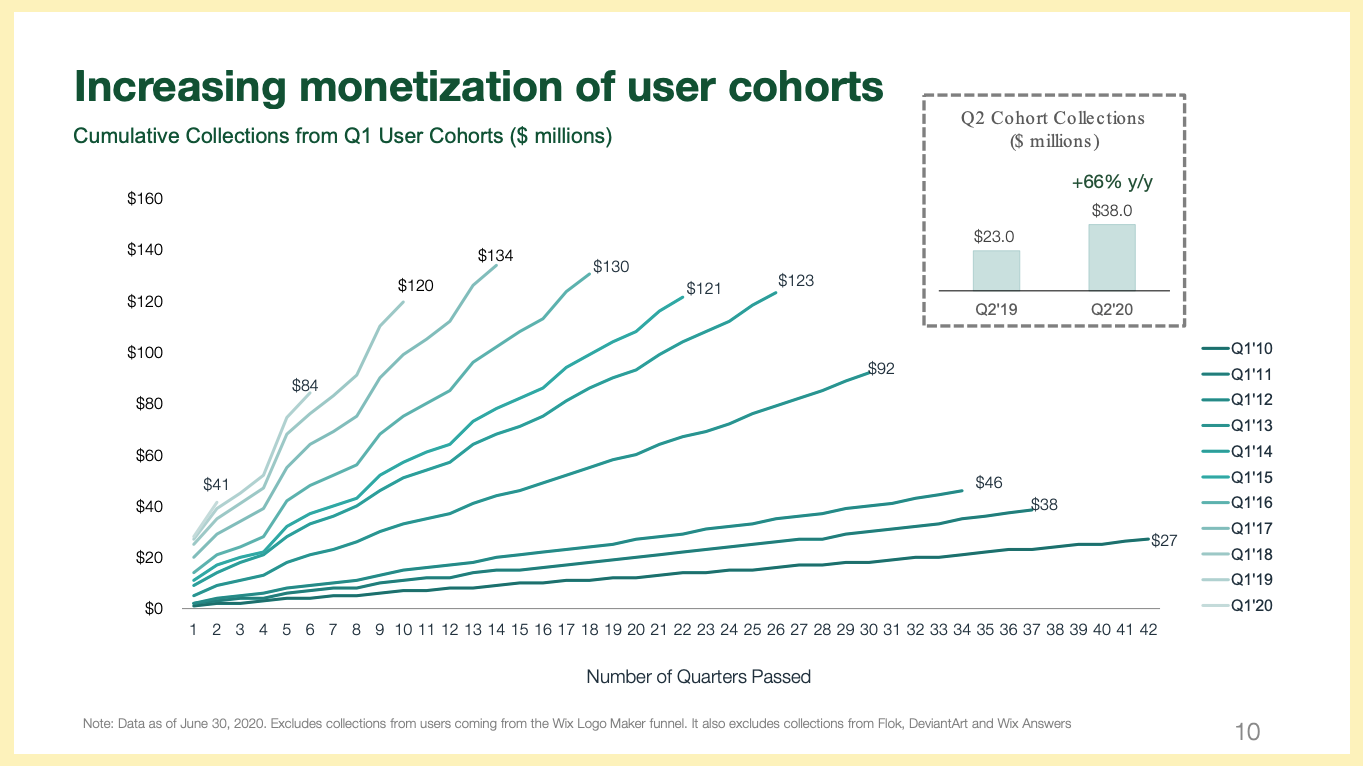 Wix is now much more than a website builder
If you were to suggest I create a website with Wix a couple of years ago, I'd run away from you. But I just gave Wix a try and was blown away. They have made a ton of improvements and introduced many new features to their product.
Two of the main issues with Wix a few years ago were it was Flash-based, which isn't great for SEO, and the websites created with it weren't mobile-friendly. These two issues alone are sufficient to stop many people from trying Wix. But the Wix team has tackled these two issues over the years. When Joshua Hardwick of Ahrefs studied 6.4M websites to compare the SEO of Wix sites and that of WordPress sites, he concluded neither is definitely better than the other. From being notably terrible for SEO to no conclusive differences from WordPress feels like a huge improvement to me. Websites created using Wix are also mobile-friendly now, and Wix even allows users to edit their mobile site separately.
On top of fixing those two issues, Wix has also added a ton of features that allow its users to do much more than having a simple website. Wix can be used for e-commerce, appointment booking, ticket sales and event management, food ordering, content management, and more. It also has email marketing, social media marketing, and customer support functionalities. If all these are not enough, it has an app store for extending the capability of your website, a marketplace of freelancers and agencies that can help you build your website, and a development platform for those who want to dive in the code.
Wix is suitable for anyone from "I don't know anything about building a website" to "I want to build a robust website from scratch." It is also suitable for a wide range of purposes such as selling goods, taking reservations, scheduling appointments, managing events, and hosting communities.
But...
It's just a free website builder
Well, as described above, it is much more than a free website builder. But the team has chosen to market itself as a free website builder. They emphasize a lot more on building a website than creating an online store, a blog, and so on. You can see this throughout its marketing—social, website, search, and ads.
Wix.com is a leading cloud-based development platform with millions of users worldwide. We make it easy for everyone to create a beautiful, professional web presence.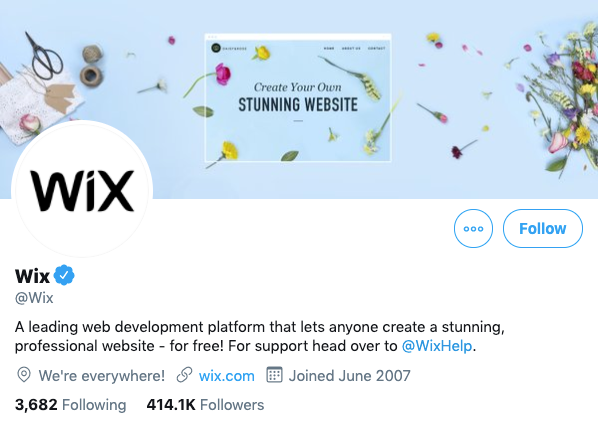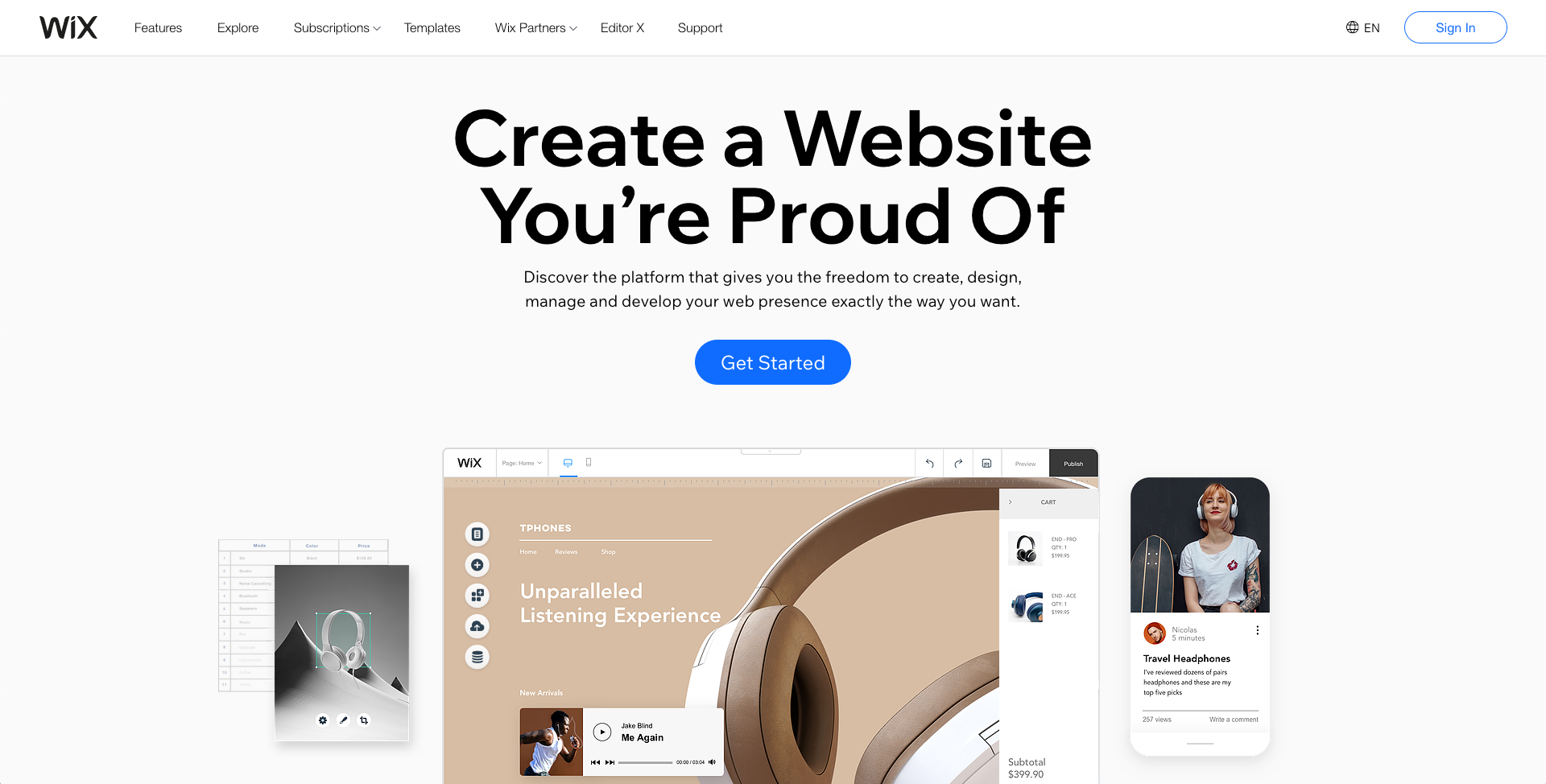 And the team has spent millions of dollars on several Super Bowl ads to tell a simple message: You can easily create a website with Wix.
Nothing about its improved SEO. Nothing about its e-commerce and booking features. Nothing about its email marketing. Just that you can create a website.
And I think it's brilliant.
Why focus on just being a website builder?
Wix can easily market itself as an all-in-one website solution for businesses because people can manage their online business with Wix, given its features. "You can build a website to sell products, manage customer relations, plan events, take orders, and blog!" But it doesn't. It simply says "you can easily create a website." I believe it's an intentional strategy.
First, it's better to be the best website builder than be an average all-in-one website solution.
The space you are in determines the competitors that people compare you with and how they judge your product and your brand. Despite being a comprehensive solution, Wix positions itself as a website builder and emphasizes more on "website" than "store", "blog", "appointment scheduling", etc. By doing that, Wix's direct competitors are narrowed down to companies such as Weebly, Squarespace, and Webflow. Wix gets the most interest among them and is often ranked as the best website builder. (That said, it isn't clear Wix is the most popular option or is making the most revenue. Squarespace seems pretty close but it doesn't report its numbers.)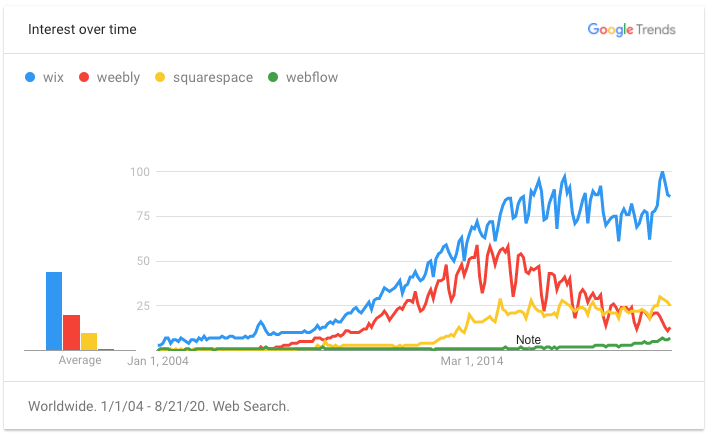 If Wix positioned itself as a comprehensive website solution for e-commerce, blogging, and so on, it will put itself in a crowded market, competing with specialized companies like Shopify and WordPress. In terms of serving e-commerce businesses, Wix is worse than Shopify and BigCommerce, which specialize in e-commerce and have a strong brand for e-commerce. Similar for blogging and WordPress.
From a brand perspective, being described as the best website builder is better than being judged as a worse e-commerce tool and a worse blogging tool.
People who want an e-commerce store would go directly to Shopify, BigCommerce, and the like. Those who want a blog would go directly to WordPress, Ghost, and so on. But I believe Wix isn't targeting those people. It is targeting people who need a website first and foremost, and consider other things, such as e-commerce, blogging, booking, and email marketing, as secondary. "I want a website, and I also want to sell things on it" rather than "I want an e-commerce store."
Second, the biggest segment of the market (or most markets) is the individuals and small businesses. Marketing is mostly targeted at them.
If you think about it, many B2B companies, even those that serve enterprises such as Microsoft and HubSpot, market to small businesses. Why? Because all markets follow the power law. The bulk of the market is made up of individuals and small businesses rather than big enterprises. For example, most of Facebook's advertising revenue comes from millions of small businesses and the top 100 advertisers account for less than 20 percent. So companies that can serve all sizes of businesses would focus their marketing on this long tail while use sales and other strategies for the rest of the market.
You can see this with Wix. Individuals and small businesses don't have many resources and would find tools to build their websites themselves, especially free tools like Wix. Marketing is most effective for this group, so the messaging should be crafted for them. They want a (free) website builder, not a complete website solution. On the other hand, businesses that are big enough to want a solution to manage their entire online business won't be looking for a website builder. They would look for agencies who can build it for them or hire a team to build it. So marketing at them isn't effective. Instead, Wix has Wix Marketplace for hiring a freelancer or agency and Corvid, a development platform for building web applications. Also, all enterprises started small. By acquiring businesses while they are small, Wix could lock them in, given the relatively high switching cost to switch website platforms. As these businesses grow, Wix could upsell them with more offerings through account management and thereby increase the switching cost.
Wix's marketing is targeted at individuals and small businesses, so it's better to keep its messaging simple (a website builder) than try to describe everything it can do.
Need a professional website?
You probably have watched (or, like me, skipped) countless Wix's ads because they have been super aggressive on YouTube. People complain about seeing its ads so often that Wix mocked itself about its ads—with an ad, of course.
As annoying as the ads are, Wix sends a simple, clear message that I'm sure many remember. And that message is used consistently across its marketing. Most companies don't have such clarity, and it's especially hard for complex products that can be used in many ways. Sure, Wix can do many things. But it just needs you to know the most important one:
It's a website builder.