Your Business Doesn't Need to Sell a Story
Alfred Lua / Written on 26 June 2020
Hello there,
Two days ago, I shared a weekly note with paying subscribers about how I get customer insights at Buffer. As marketers and product people, I think we need to know our customers as much as possible and be the most knowledgeable in the company (and share the knowledge). If this resonates with you, you might like to read about my successes and failures.
Last week I wrote Be Unique, Not the Bestto explain how a few startups have used a unique positioning and done things their competitors won't, to create a competitive advantage. Brian Balfour, Founder of Reforge, recently wrote something similar but from a different angle, Alternatives, Not Competitors. It's a short read, and I'd recommend checking it out, too.
Onto today's analysis:
"Every great company sells a story"
Marketers love hearing this and reading about companies with a great story. I'm one myself and even tweeted that statement yesterday. There is a good reason why we love that. Just look at a few top tech companies:
Slack doesn't sell a company chat app, it sells organizational transformation.
HubSpot also doesn't sell a CRM, it sells inbound marketing.
Intercom doesn't sell a customer messaging app, it is making business personal again.
Airbnb isn't a marketplace for home rental, it lets you "Belong Anywhere".
Stripe isn't selling a payment gateway, it is building the economic infrastructure of the internet.
Basecamp isn't selling a project management software, it is selling a calm way of working.
Drift doesn't sell sales tools, it sells conversational marketing.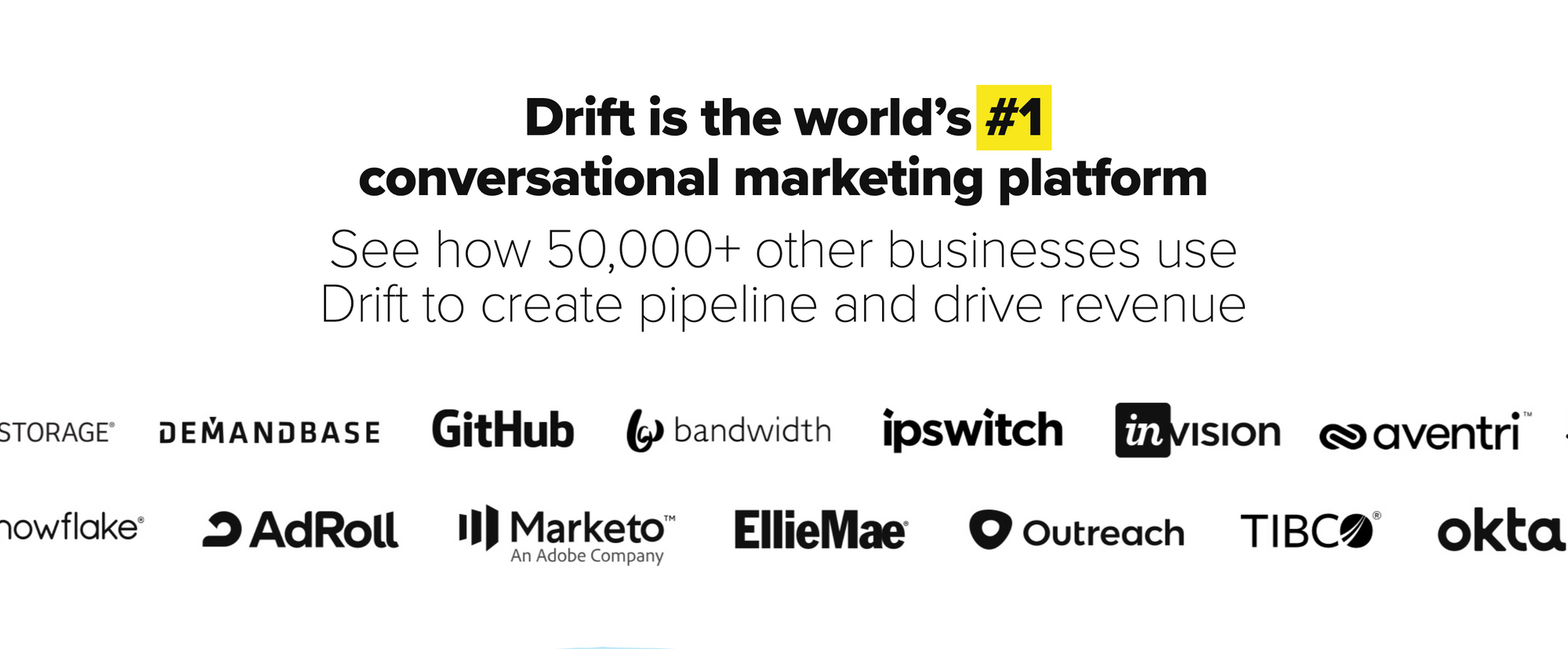 This part of Slack CEO Stewart Butterfield's now-legendary memo, We Don't Sell Saddles Here, is often quoted when marketers and founders are told their startup needs to sell a story (emphasis mine:)
What we are selling is not the software product — the set of all the features, in their specific implementation — because there are just not many buyers for this software product. (People buy "software" to address a need they already know they have or perform some specific task they need to perform, whether that is tracking sales contacts or editing video.)

However, if we are selling "a reduction in the cost of communication" or "zero effort knowledge management" or "making better decisions, faster" or "all your team communication, instantly searchable, available wherever you go" or "75% less email" or some other valuable result of adopting Slack, we will find many more buyers.

That's why what we're selling is organizational transformation. The software just happens to be the part we're able to build & ship (and the means for us to get our cut).
They aren't selling software. They are selling a story. Customers are buying a new way of doing things.
But does your business really need to be selling a story?
Great businesses without a story
In reality, most businesses are not creating a new market like Slack had to. They are competing in well-defined markets. They should have a unique positioning but I'd challenge the notion that every business needs a story to become great.
My favorite example is Ahrefs, an SEO toolkit. Here's their homepage. No fancy story, just to-the-point benefits—"rank higher and get more traffic".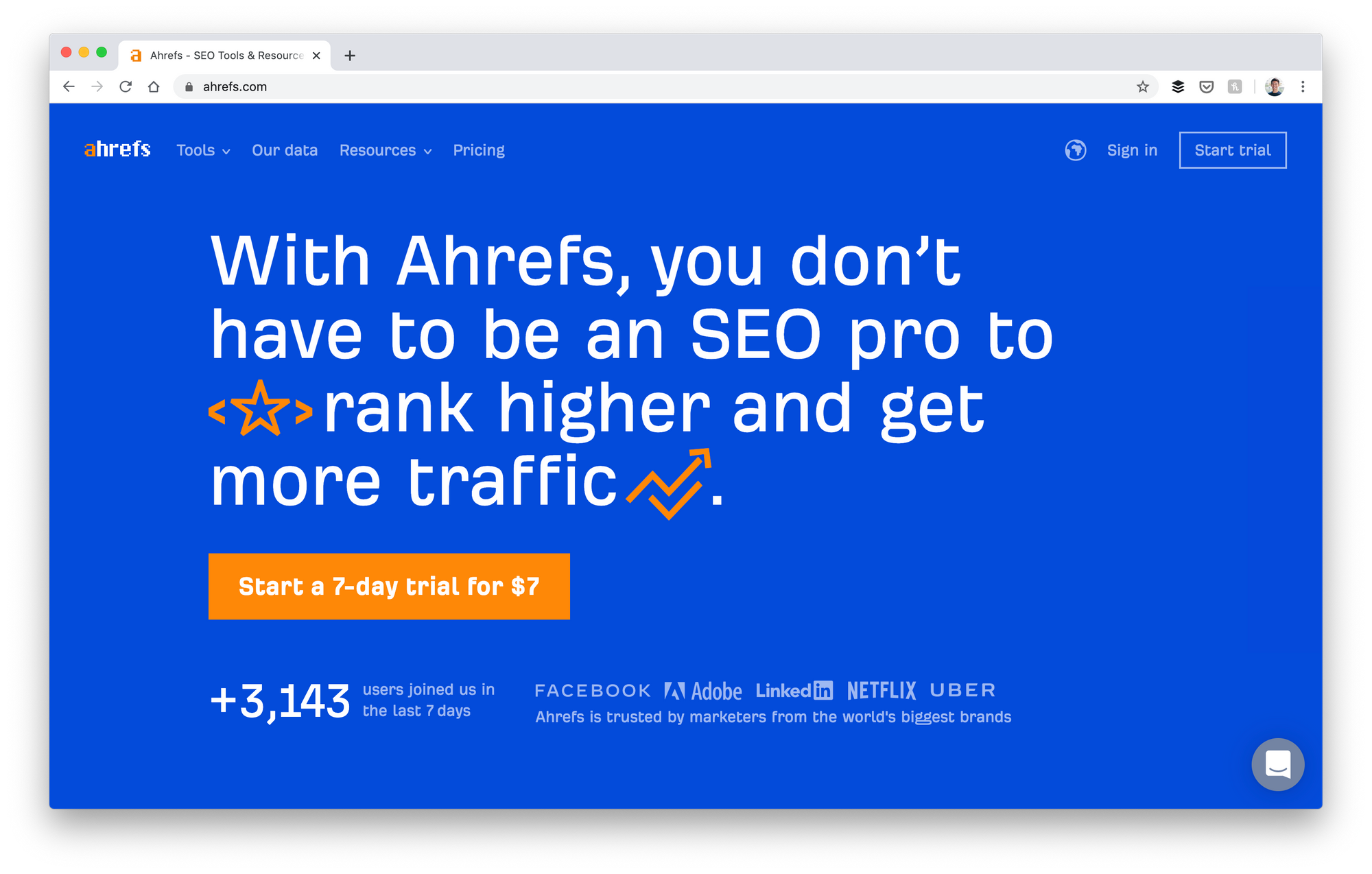 The company has an annual recurring revenue of more than $50 million with just a small team of about 50 people. Each employee, on average, is contributing more than $1 million in annual revenue. That is similar to Alphabet's revenue per employee. And they are still growing more than 60 percent each year.
That's a solid business if you ask me.
ConvertKit is another favorite example (as you might know from my past few essays). They don't tell a fancy story but they have a strong positioning—email marketing for creators. In seven years, they grew to $22 million in annual recurring revenue with 58 people now.
Another great business, in my opinion.
One more example: Zapier. It's "the easiest way to automate your work". It doesn't promise you your company will be transformed by using Zapier; it connects multiple apps for you. But it grew from a weekend project to a $50 million annual recurring revenue company.
I can go on and on:
Klaviyo sells email marketing for e-commerce. It doesn't say it sells customer connection.
GitHub sells a development platform. It doesn't say it sells a future built with code.
Privy sells e-commerce tools. It doesn't say it sells a new way of doing e-commerce.
Buffer sells social media management. We don't say we sell brand transformation.
If you keep hearing your brand needs to tell a story but struggle to come up with one, it's okay. As a marketer, I love having a story to tell. That's what attracted me, and I'm sure many of you, to marketing. But the reality is not every business needs to sell a story.
Also, for many customers, the story might not matter at all. They bought the product for the value and benefits, not the story. For example, do people use Slack because they want to transform their organization? I didn't.
But having a great product is non-negotiable
A good part of that is "just marketing," but even the best slogans, ads, landing pages, PR campaigns, etc., will fall down if they are not supported by the experience people have when they hit our site, when they sign up for an account, when they first begin using the product and when they start using it day in, day out.
This is from the same memo by Slack CEO Stewart Butterfield, which I think many people overlooked.
Whether you sell a story or not, you need a great product.
If you have a great product, which also includes a clear positioning, you don't always need to sell a story. The companies mentioned above all have a strong product that does the job well for its customers.
Ahrefs has the world's largest third-party database of search queries, and competitors have never been able to catch up.
Klaviyo provides powerful integrations with all e-commerce platforms. Marketers whose business is on Shopify have told me they even prefer Klaviyo to Shopify Email.
ConvertKit is the only email marketing platform with features that creators need, such as having opt-in incentives on forms.
But if you insist on selling a story, you must have a great product. Without the product experience, it's just a fanciful story. This will show up as lower activation and conversion rates because people who eagerly sign up for your product are disappointed by it.
In practice, I have learned (the hard way) you need a strong product vision and clear positioning to build a great product. There are many frameworks out there to help you think about product and positioning. I tend to boil it down to: what are you building for who? While it seems simple, I realized many people either don't have an answer to this or have a very generic one. Without understanding who your product serves, it is hard to build the product or do marketing.
Great product + Great story = Magic
While I argue businesses don't always need to sell a story, a great story can complement a great product.
A great product forms the foundation of the business. This can be achieved with a strong product vision and clear positioning (though not easy). The story is like a layer above it. It often elevates the product above just its features and value and helps customers form an emotional affinity with the product. We think we are rational consumers but we usually justify a purchase because we are already bought into the brand in the first place. I see the power of emotional affinity (some this call branding) at Buffer a lot. Despite having fewer features and higher price than many competitors, many social media managers choose us over them.
A great story also makes it easier to improve the product because it brings consistency and clarity to the product team. For every project they take on, they can use the story as a guideline. Does this strengthen the story or contradict it? (But I would say this can also be done through other means, such as having a clear positioning.)
There are also less tangible benefits for the company. It is easier to attract and hire people when you have a strong story because people want to work at cool companies. You can get more press coverage because reporters want cool stories to tell. You can get more word-of-mouth recommendations because people usually want to share cool stuff with others. For example, when we announced our transparent salaries, countless publications wrote about it (up until today), more than 100,000 people checked out the announcement blog post, and more than 4,000 people applied for a position.
Product/story fit
Many founders and product people talk about product/market fit—"being in a good market with a product that can satisfy that market." I think marketers should think about product/story fit.
If you try to sell a story but the product doesn't fulfill the promise, it's bad for the business.
If you have a great product, you can have a solid business without selling a story.
If you have a great product and a great matching story, it'll be a great business.
To paraphrase Andy Rachleff who coined the term, "product/market fit", when a great product meets a great story, something special happens.